8/12/23 Dillon Steuer And Jack Beaumont Beat The Rain, Win Orange County Features
It wasn't a very promising forecast for racing Saturday in Middletown, NY. Showers were predicted anytime from 3pm on. But the management of the Orange County Fair Speedway decided to press on with their racing events.
And while showers did of encircle the outlying Middletown area, the immediate OCFS vicinity stayed dry for 2 of the 3 scheduled features to be run to completion, not bad at all considering the poor forecast.  
Dillon Steuer bounced back from a tough Friday night at Accord Speedway to post an impressive 358 Small Block Modified  win over Jimmy Spellmon and Anthony Perrego.
Spellmon was the early leader, getting the jump on Bob Hentschel and Tommy Meier. Steuer was in 4th by lap 4, and was 3rd by lap 6. Running 2nd on a lap 12 restart, Steuer grabbed the lead from Spellmon and pulled out to a safe lead. Perrego moved up into the top 5 on lap 8. He eventually moved into 3rd on lap 14 and put the heat on Spellmon for 2nd. But Spellmon held fast and Anthony dropped back a bit.
At the finish, Steuer had a 2.5 second margin of victory over Spellmon with Perrego finishing 3rd. Hentschel was 4th with Billy VanInwegen 5th. Tyler Jashembowski was 6th, Meier 7th, Tanner VanDoren 8th, Charles Loiodice 9th and Craig Mitchell 10th.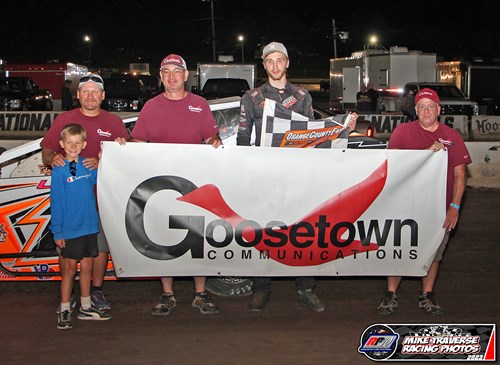 It was a Street Stock race that was close up front all the way. And in the end, it was Jack Beaumont taking the victory over defending champion Bob Sleight and Jim Hajkowski.
Hajkowski took the lead at the start, moving from 4th to 1st in less than half a lap. Beaumont was charging through the pack, racing his way into 3rd by lap 4. Jack took the lead on lap 6, but Hajkowski kept the pressure on. With Sleight and Doug Sterling  in the mix, it was a great 4 car battle at the front. Sleight moved past Hajkowski for 2nd on lap 12 and moved in on Beaumont. A caution with 2 to go put Beaumont and Sleight side-by-side. But Jack was up for the challenge. 
At the finish, it was Beaumont by a bit less than a second over Sleight with Hajkowski finishing 3rd. Sterling, who is moving closer and closer to the front every time in the #46 was 4th and Ray Tarantino was 5th. Charlie Donald finished 6th with Tyler Romer 7th, Ron Constable 8th, Isaiah Guest 9th and Marty Van Nieuwland III 10th. 
Rain started falling at the conclusion of the Street Stock race and quickly picked up in intensity, forcing a postponement of the Sportsman feature.