7/5/23 Anthony Perrego Wins OCFS 30 Lap Big Block Feature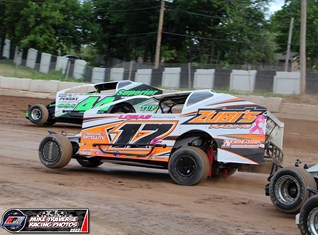 By Mike Traverse
It took until July, but there is finally an Orange County Modified feature winner that doesn't drive the #9S.
Anthony Perrego drove from 14th position to win the OCFS 39 lap feature on Wednesday to end Matt Sheppard's 2023 winning streak.
"I'm excited to beat the 9S," Perrego said afterward in Victory Lane. "The track was pretty good for the feature."
Legendary OCFS racer Richie Eurich bolted out to the lead and led the first 14 laps with Tommy Meier trailing. Tyler Boniface was fast on the outside and once he got past Meier for 2nd, he passed Eurich for the lead coming to the halfway mark.
Perrego was on the move, quickly gaining positions. And shortly after Boniface took the lead, it was Anthony moving by. Boniface suffered mechanical trouble on lap 25 and his great effort ended.
The six lap run to the checkered flag Billy VanInwegen moving into 2nd with Sheppard 3rd. At the finish, Perrego had a 2.5 second margin of victory over Billy V. with Super Matt 3rd. Meier finished 4th with Dillon Steuer 5th. Rounding out the top 10 were Chris Shultz 6th, Charles Loiodice 7th, Jack Lehner 8th, Paul St. Sauveur 9th and Brett Hearn 10th.
The 20 lap Sportsman feature was curtailed after 2 laps when a security issue coupled with the late hour had the officials ending the night's activities at that point. Stay tuned to the OCFS facebook page regarding the balance of this feature.
The next OCFS car racing event will be on July 15th when the URC Sprinters join the Big Blocks and Sports for a night of racing action.