7/1/23 Tyler Boniface Dominates 358's at Orange County, Takes Feature Win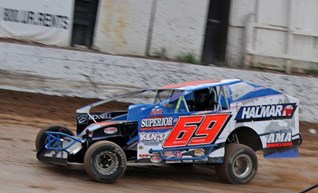 Tyler Boniface and his team have been working hard, trying to find more speed in his Halmar #69 358 Small Block Modified.
After an impressive heat race win, Tyler was able to drive past a big mess on the feature start and went on to take an impressive win Saturday night at the Orange County Fair Speedway.
"We've been working on things with the car and we hit on something this week," Boniface said in Victory Lane. "We are constantly trying things in the shop to keep up with the 44 (Anthony Perrego).
The original start saw a big pile up in the 2nd turn involving at least 7 cars. All were able to drive away except Joe Krum and Jimmy Horton. Krum was able to return, but Horton was don for the night.
Roger Henion Jr. in the Falanga 88 took the lead on the start. Henion was out front for 5 laps before the 7th starting Boniface powered his way past. From there on, it was smooth sailing for Tyler as he sailed to a 2.6 second victory.
Corey Cormier was another driver that was able to avoid the 1st lap mayhem and he finished 2nd. Billy VanInwegen raced from 15th spot to finish 3rd. Craig Mitchell was steadily in the top 5 the whole way and finished 4th. Danny Creeden finished 5th. Donnie Wilson was 6th. Dillon Steuer who had some damage from the lap 1 incident finished 7th. Josh Allen was 8th, Charles Loiodice recovered from a pitstop and finished 9th with Tanner VanDoren 10th.
Point Leader Anthony Perrego was able to survive a flat tire and salvaged an 11th place finish.
"We're now confident that we are going in the right direction," said Boniface. "But we're going to keep tweaking on it to make it better."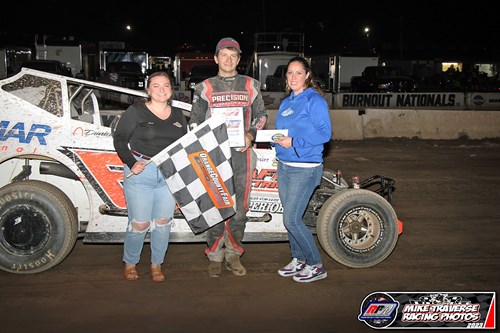 Three weeks ago, Gary Edwards III broke through to grab his first career OCFS Sportsman win. On Saturday, he backed that up with win number 2.
As the feature got underway, a huge incident unfolded in the first turn as a spin at the front of the field really blocked the track and involved at least 8 cars including the divisions top two in the points, Brian Krummel and Cody Higbie. Both were able to continue.
Pat Mann was the leader on the restart and he held the position until halfway when the 14th starting Edwards III powered on by. Tyler Johnston was able to move into 2nd on lap 13, and although he closed the gap some, Edwards was able to take the win by 1.6 seconds.
Mann crossed the finish line in 3rd position, but he was disqualified post race. Dylan Smith moved up to 3rd with John Bockhorn 4th and John Kendall 5th. Kevin Stevens was 6th with Krummel coming back to finish 7th. Dom Roselli Jr. was 8th, Dillon Gannon 9th and Mike Sabia 10th.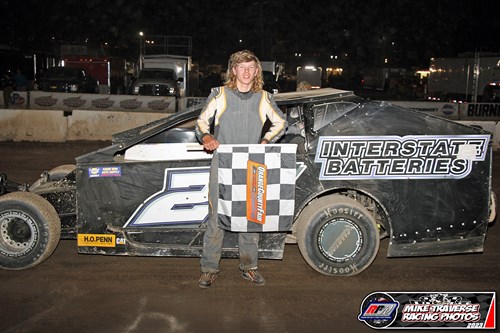 When a veteran championship winning driver gets a break, he is more than likely going to take advantage of it. And that's what Bob Sleight did on Saturday as he made a late race pass to win the Street Stock feature.
Tom Cilurso Jr., running the best he has all season, took the early lead. He was able to easily keep a nice cushion over 2nd place Mike Vigiletti. By lap 7, with Cilurso Jr. having a good lead, Vigiletti slowed on the backstretch, bringing out the caution.
This bunched up the field with Sleight now in 2nd. Cilurso Jr. maintained the lead on the restart, but Sleight kept after it and with 5 to go, moved into the lead.
At the finish, it was Sleight with a 3/4 of a second win over Cilurso Jr. Ray Tarantino moved into the top 5 early on and finished 3rd. Jack Beaumont finished 4th with Billy Deak Jr. 5th. Ryan Modiano was 6th, Walt Henry 7th, Jim Hajkowski 8th, Charlie Donald 9th and Ron Constable 10th.