6/3/23 Anthony Perrego Sweeps Orange County 358 SBM Features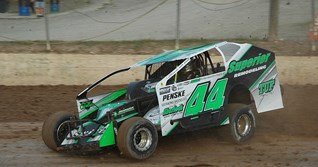 6/3/23 Anthony Perrego Sweeps Orange County 358 SBM Features
It took a long time to get the first two OCFS 358 Small Block features in the books. But by the time Saturday was completed, Anthony Perrego added two more 358 victories onto his wins list. The night started off with the resumption of the April 22 feature that had only 1 lap completed. Perrego, leading at the time, got out in front of Dillon Steuer. As the first few laps clicked off, Steuer started closing in on Perrego and he made the pass for the lead on lap 7. A caution two laps later saw Perrego advance back to the lead on the restart. And Perrego led the rest of the way, taking the win by 2.6 seconds over Steuer. Danny Creeden finished 3rd with Tyler Boniface 4th and Tyler Jashembowski 5th. Mike Sabia was 6th, Jimmy Spellmon 7th, Charles Loiodice 8th, Tanner VanDoren 9th and Billy VanInwegen 10th.
In the regularly scheduled feature, Bobby Hentschel was the early leader and he was stretching it out until the caution waved after 4 laps. On the restart, Hentschel again got out to a healthy lead until the caution flag again flew after 7 were down. Back in the pack, VanInwegen from 10th and Perrego from 16th were making big gains towards the front. Henstchel led on the restart, but VanInwegen was able to get by on lap 9. When caution flew on lap 13, Perrego was now 2nd and he took the lead on the restart. Perrego continued on to take his 2nd win of the night, this one by a margin of 2.9 seconds over Billy V. VanDoren advanced from 9th to take 3rd with Hentschel finishing 4th and Steuer 5th. Joey Bonetti was 6th with Bob McGannon 7th, Creeden 8th, Corey Cormier 9th and Chris Stevens 10th.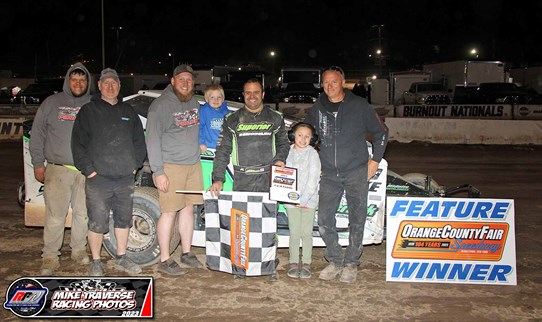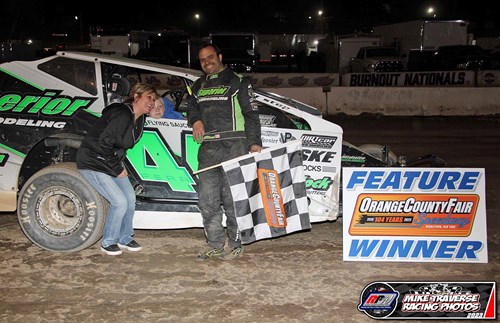 6/3/23 Jordan Poirier wins Empire Super Sprints Feature/Jeff Cook Dash Winner
Jordan Poirier was the winner when the Empire Super Sprints made their first ever appearance at the historic 5/8's Hard Clay oval in 2022. On Saturday night, he backed that win up by taking another one.
Poirier grabbed the lead at the start over Jordan Thomas and built up a good lead. by lap 5, Dylan Swiernik had taken 2nd and Davie Franek 3rd. They ran that way, equal distance apart in the high groove until lap 18 when Billy VanInwegen, running in the top 10, saw a wheel come loose from his car. The wheel sailed into the fence in the first turn, punching a big hole into the wood. But fortunately, the wheel stayed inside the facility and did not bounce onto Wisner Ave.
Franek lost two spots on the ensuing restart as he fell to 5th with Shawn Donath moving into 3rd with Thomas 4th. There were no further changes in the standings the remaining laps as Poirier came home the winner by about 1/2 a second over Swiernik with Donath finishing 3rd. Thomas was 4th and Franek finished 5th. Rounding out the top 10 were Jason Barney 6th, Joe Kata 7th, Matt Tanner 8th, Jeff Cook 9th and Chase Moran 10th.
Jeff Cook was the dash winner over Barney, Tanner, Kata, Kyle Smith and VanInwegen.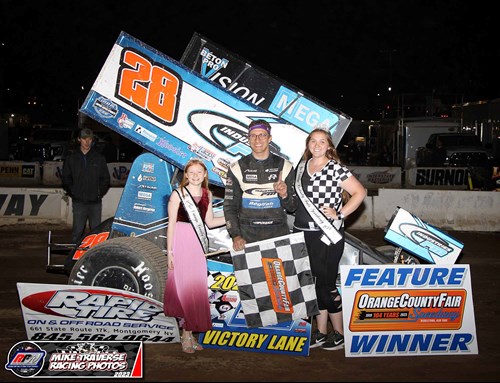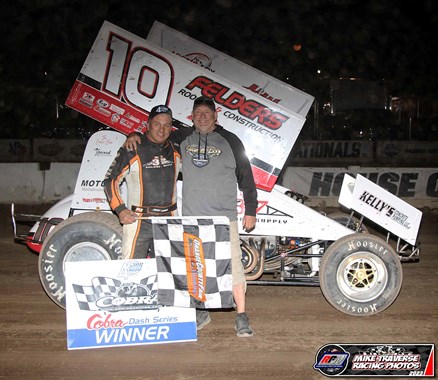 6/3/23 Tyler Peet wins OCFS Sportsman Feature
For 16 laps, it looked like Anthony Vitale Jr. was on his way to his first ever OCFS Sportsman win. But Tyler Peet made a late race charge and it was him who got that coveted first ever OCFS win.
Vitale got out to the lead at the start and he stretched it out over Jared Miller and Peet. As the race closed in on halfway, Miller and Peet were locked into a furious battle for 2nd position. Peet was finally able to clear Miller on lap 9 and set sail for Vitale. He made up ground quickly and on the 17th lap, he was able to make the pass. Peet went on to take the win by 2 1/4 seconds over Vitale with Miller finishing 3rd. Travis Green was 4th and Nick Giardini was 5th. Sixth thru tenth were Brett Weslowski 6th, Tyler Banks 7th, Kasey Hufcut 8th, Joey Bruning 9th and Brian Krummel 10th.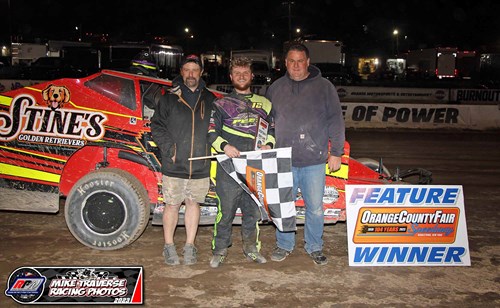 6/3/23 Jim Hajkowski wins OCFS Street Stock Feature
Jim Hajkowski suffered engine trouble in his primary car, but his trusty backup was up to the task Saturday as he drove a flag-to-flag victory in the non-stop feature. Hajkowski grabbed the lead at the start from Tyler Romer and held off a serious late race challenge from defending division champion, Bob Sleight. At the finish, it was Hajkowski the winner by a tick less than a second over Sleight.Jack Beaumont came from 13th starting spot to finish 3rd and Walt Henry advanced from 16th to 4th. Doug Sterling was 5th followed by Ryan Modiano 6th, Mike Vigiletti 7th, Billy Deak Jr. 8th, JB Morris 9th and Romer 10th.