6/17/23 Ryan Neiger Wins First Career Orange County Sportsman Feature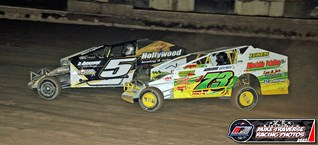 It was $5 night at OCFS and despite some pesky, intermittent rain, the fans really got their money's worth as there was very good racing throughout the evening with close feature finishes. 
Ryan Neiger is one racer who was glad to see that the race program was completed as he outran Brian Krummel to the finish to win his first ever Sportsman feature at OCFS. "I've been waiting a long time for this," said the happy winner in Victory Lane. "I just want to thank those who help me and my sponsors."
Dillon Gannon was the early leader in the feature with Joey Conklin taking the lead on lap 2. A restart after 4 were complete saw the 5th starting Neiger taking the top spot. Krummel was fast through traffic, coming from 12th on the starting grid to move into 2nd on lap 5 and the chase was on.
During the middle stages of the race, Krummel was able to close in, but was never in position to make a good bid for the lead as Neiger was running very strong.
"I was just trying to keep him behind me, I knew he was fast and how well he does here," Neiger said. As the laps wore down, Neiger was able to put just a little space between him and Krummel. Brian made a last lap bid for the win that came up just short as Neiger crossed the line a scant 2/10ths of a second over Krummel to take the coveted win. John Farissier moved into 3rd place early and stayed there the rest of the way. Mike Sabia was 4th with Jeff Higham 5th. Conklin finished 6th with Tyler Johnston 7thm Dominic Roselli Jr. 8th, Grant Hilfiger 9th and Nick Giardini 10th. "I might just take a vacation, it took so long to get this win," Neiger said.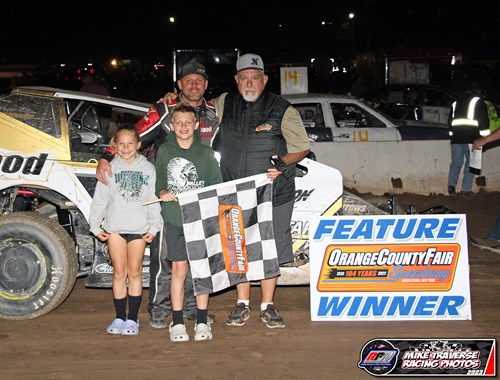 Walt Henry continued his strong season at OCFS by powering his way to his 2nd win of the season in a dominating fashion over defending champion Bob Sleight.
Henry took the lead on lap 3 from Ray Tarantino and from that point, checked out from his competitors. Sleight moved up steadily from his 9th starting spot into 3rd on lap 6. A caution just past halfway bunched up the field, but Henry again took off as Sleight moved past Tarantino into 2nd. At the finish, it was Henry with a nearly 4 second margin of victory over Sleight. A late race pass by Jack Beaumont got him the final podium spot in 3rd. Tarantino was 4th and Tom Cilurso Jr. 5th. Completing the top 10 were Ryan Modiano 6th, Mike Vigiletti 7th, Jimmy Maher 8th, Charlie Donald 9th and Doug Sterling 10th.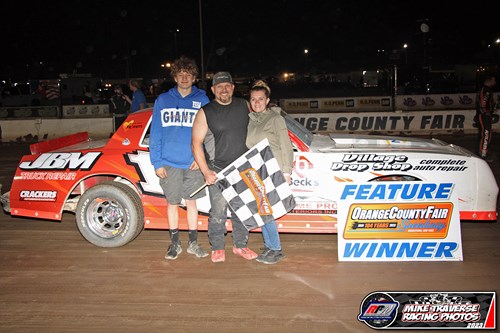 Brock Miller bolted from his 5th starting spot to become a first time OCFS winner in the Rookie Sportsman.
Two time 2023 Rookie winner Mike Giuliano was able to put the pressure on Miller as he moved into 2nd by lap 3. Despite some restarts, Miller was able to maintain the lead and at the finish was the winner by a little over a second over Giuliano. Fred Pavia was 3rd with Scott Zehnacker 4th and Randy Torres 5th.
Moose Shauger had a hard impact with the 1st turn wall in hot laps and his night looked to be done. But as racers and teams do, they persevered and Moose brought the car home with a hard earned 6th. Willis Mann finished 7th, Ronnie Shauger 8th, Donnie Campbell 9th and Shawn Murphy 10th.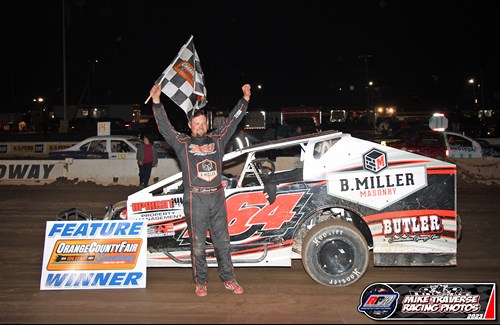 The night was capped off with an Enduro and what a finish. OCFS Street Stock competitor Tyler Romer went from 3rd to first on the last lap to take the win.