APRIL 15 - SPORTSMAN HEADLINE RACES AT ORANGE COUNTY FAIR SPEEDWAY!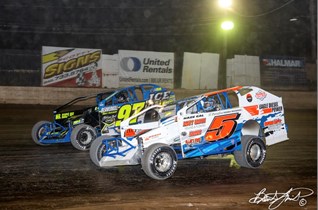 SPORTSMAN HEADLINE APRIL 15 RACES AT ORANGE COUNTY FAIR SPEEDWAY!
ROOKIE SPORTSMAN AND STREET STOCKS COMPLETE THE PROGRAM
  MIDDLETOWN, NY (April 10)…….. Three open-wheels racing divisions compete on a regular basis on the clay-surfaced Orange County Fair Speedway in Middletown, New York. Commonly called Northeast Center-Steer Modifieds, the divisions are Sportsman, DIRTcar Small-Block Modifieds, and DIRTcar Big-Block Modifieds. While all three classes look alike, even sound similar when running, there are both major and subtle rules distinctions that separate them. The most distinctive differences are the power plants---the allowed engines. The Sportsman cars are the most restricted, with lower horsepower engines and very limited modification. Sportsman cars are often entry-level machines. The Small-Block Modifieds allow engines (mostly Chevrolet-origin) up to 358 cubic inches and more liberal modifications for speed. Race cars with these engines are raced at many tracks throughout the region. The Big-Block Modifieds, considered the top racing division, are powered by engines (almost all Chevrolet-origin) up to 467 cubic inches and are usually custom-built by automotive performance specialists. The Big-Block Modifieds is a professional racing division. For the 2023 racing season at Orange County Fair Speedway, all three divisions will have nights as the headline division.
First up, on Saturday, April 15, the Sportsman division will be recognized.  Following preliminary qualifying races, the top-26 cars and drivers will compete in a 20-lap feature race, paying the winner $1,000. The Sportsman competitors often top 50 in number, so just making the field for the feature race is a major achievement.
Also on the night's program will be the Rookie Sportsman---the same type cars---but restricted to drivers with little or no previous experience in this division. Depending on entrants, they'll compete in a single race, or perhaps a pair of events.
The final group on the card will be the Street Stock division, the only full-bodied class racing at Orange County. The number of entrants will determine the exact racing format for this division.
Fan admission for April 15 is only $5.00 all seats.  The Party Deck is $15.00 per person, minimum two, maximum four. The Drive-In section will not be open. Children 12 and under are always free. Pit passes are $30.00 member, $35.00 non-member.
Racing begins at 6:30 pm.  Please consult the speedway website for the opening times for the pits and stands. For the latest racing news and event information, fans and competitors should always check the speedway website, www.orangecountyfairspeedway.net and social media.