8/12/2021 - OCFS Centennial 102 - Friesen Victorious, Locks into final 4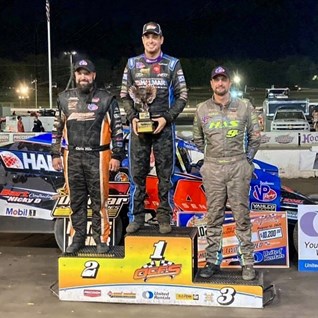 Thursday Night August 12th The Legendary House Of Power celebrated 102 years of operation with its Centennial 102 lap Big Block Super DIRTcar Series event. 40 DIRTcar Big Block Modifieds entered the pits for competition which started with group time trials. The overall fastest timer of the night was none other than "Mad Max" himself, Max McLaughlin. McLaughlin was just shy of making the top eight for the Championship in 2021, so it came as no surprise that Max would sit on top going into qualifying heats. Four heat events, taking the top three to a redraw, and the overall top five to the feature, were won by  Max McLaughlin, Peter Britten, Stewart Friesen, and Anthony Perrego. There were two last chance qualifiers which were won by Keith Flach and Bobby Hentschel.

After the top twelve were involved in a redraw, it was "The Thrilla From Unadilla" Billy Decker, and "The Hile Driver" Chris Hile starting on the front row for the 102 lap affair. As the green dropped, Decker wasted no time jumping out front with Hile and "The Outlaw'' LJ Lombardo in tow. An early caution on lap three would halt the event as Dillon Steuer would get a flat tire and head pit side. As caution laps counted, the next restart would take place on lap six with Decker still leading the way. As Billy Decker continued to grow his lead over Chris Hile, it was a charge from midpack by Stewart Friesen that caught everyone's eye. Friesen would move up to the highside and begin passing cars as laps clicked away. On lap nine Friesen would enter into fifth by passing Billy VanInwegen Jr. Laps later, Friesen would work his way around Anthony Perrego, and LJ Lombardo before he was left to deal with Chris Hile. A caution on lap twenty-four would come out for issues involving Erick Rudolph.
It was the next restart that Stewart Friesen would make his way into second. Billy Decker was still the leader but Friesen was hot on his tail. It was around lap forty three that Stewart Friesen made his way around the #91 of Decker to take the lead. As Friesen began to extend his lead throughout lapped traffic, the battle for the top five emerged. "Super Matt" Matt Sheppard, "Mega Money" Mat Williamson, and "The Highside Hustler" Tyler Boniface started making moves utilizing every inch of the race track. With forty nine laps left, Matt Sheppard was reeling in "The Sensational One" Jimmy Horton who was in fifth. Sheppard would get on by and Williamson would follow suit before a caution would array.

The green would fly as Friesen and Decker would lead the way. This would set up for an intense battle between Decker and Chris Hile, but a caution was out for Jimmy Horton. The field regrouped with Friesen still leading. Friesen would start where he left off by putting car lengths between himself and Decker. Decker would have to fend off Hile who was in third, but also be prepared for the hard charging pack of Anthony Perrego, Matt Sheppard, Mat Williamson, and Max McLaughlin who were duking it out for top five positions. Hile would make his way around Decker and go Friesen hunting as laps dwindled down. A caution with twenty-two to go would end the night for Erick Rudolph and also regroup all of the intense battles that were happening separately on the track. On the next restart it was Friesen and Chris Hile leading the way. Friesen immediately began pulling away. Hile would then have to prepare for "Ant Man" Anthony Perrego who was charging hard. Perrego would work his way on by the #5H taking over second place with Hile now third and Matt Sheppard fourth. A caution for Dillon Steuer would halt the event with just eighteen laps to go.

As the green waved on the restart, it was a pair of #44's out front. It was Friesen vs Perrego. Perrego, a former Track Champion, would be sure to give it all he got to dethrone Friesen of the top spot. A late race caution would put a break in the event, this time for early race leader Billy Decker. Decker had some suspension issues aboard the #91, but was able to have his crew thrash away getting him back onto the speedway. When the final restart came to fruition, it was single file. Friesen still out front, and Anthony Perrego in second. Perrego had one last shot to take away the top spot from Friesen and only three laps to complete it. However with two to go, Perrego had a heartbreak strike, as Perrego would fall from the event leaving Chris Hile and Matt Sheppard to get around him and try to catch up to Friesen. Friesen however was unchallenged for the top spot winning The Centennial 102 and locking himself in the Final Four for the hunt to claim the 2021 OCFS United Rentals DIRTcar Big Block Champion.