6/18/22 Matt Sheppard Conquers The New OCFS Surface For Modified Win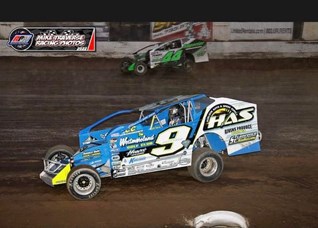 The track was great Saturday night and modified racers put on a great show. Matt Sheppard got the win, his fourth but Anthony Perrego sure made it interesting at the end. As did Tanner Vandoren as he put on a show with a late race charge to finish third. All three of those guys were quick in winning their heat races as well. Max McLaughlin was quick early and it's just a matter time before he gets a win. There are two more chances for drivers to get into the top 12 to race for the $30,000 point fund.
In 358 Modified action Saturday night Anthony Perrego won the 45 lap Whitey Memmelaar memorial event. Ant was fast....But so was Billy VanInwegen who finished 2nd. Anthony & Billy both won their heat races and are TIED at the top of the 358 point standings. Corey Cormier came on strong to finish 3rd. Dillon Steuer was 4th and Craig Mitchell was 5th. Pat Reiser was quick all night winning his heat and placing 6th in the main event.
The Sportsman guys sure seemed to enjoy the NEW surface Saturday night. The top finishers all raved about the track conditions. Dom Dominic Roselli took the Feature win by passing a quick Joey Bruning for the win. Dom started in the 14th spot. Kasey Hufcut was solid finishing 3rd with Cody Higbie 4th & Josh Allen 5th. Jake Bedell was quick all night winning his heat and placing 6th in the main. The Code Man is now 2nd in points 3 behind leader Mike Michael Sabia.
UNITED RENTALS MODIFIED FEATURE
Pos Competitor Total Time Diff Laps Best Lap Best Lap No. Best Speed
1 9S Matt Sheppard 12:18.606 0.000 30 23.985 1 93.809 mi/h
2 44P Anthony Perrego 12:18.827 0.221 30 23.867 11 94.272 mi/h
3 6 Tanner VanDoren 12:23.319 4.713 30 24.058 3 93.524 mi/h
4 16X Dannny Creeden 12:25.508 6.902 30 23.958 5 93.914 mi/h
5 2A Mike Gular 12:29.283 10.677 30 24.370 14 92.327 mi/h
6 8H Max McLaughlin 12:30.554 11.948 30 23.431 1 96.027 mi/h
7 93X Craig Mitchell 12:39.280 20.674 30 24.759 7 90.876 mi/h
8 17Z Dillon Steuer 12:41.827 23.221 30 24.463 6 91.976 mi/h
9 43 Jimmy Horton 12:43.871 25.265 30 24.290 3 92.631 mi/h
10 19JR Roger Henion Jr 12:44.406 25.800 30 24.631 17 91.348 mi/h
11 69T Tyler Boniface 12:17.289 1 lap 29 24.911 7 90.322 mi/h
12 17J Matt Janiak 12:24.870 1 lap 29 24.810 15 90.689 mi/h
13 88T Tyler Jashembowski 12:30.360 1 lap 29 25.251 24 89.105 mi/h
14 4SL Bob Hentschel 12:40.295 1 lap 29 25.560 10 88.028 mi/h
15 21JR Gary Edwards 12:43.710 1 lap 29 25.831 21 87.105 mi/h
16 716 Corey Lowitt 12:29.008 2 laps 28 25.916 4 86.819 mi/h
17 10 Rich Eurich 12:30.787 3 laps 27 26.917 21 83.59 mi/h
18 28F Stan Frankenfield 12:32.762 3 laps 27 27.125 5 82.949 mi/h
19 66 Tommy Meier 10:54.520 5 laps 25 25.405 3 88.565 mi/h
20 24S Chris Shultz 8:40.231 10 laps 20 25.454 11 88.395 mi/h
21 20B Joe Bonetti 7:24.382 14 laps 16 27.078 2 83.093 mi/h
22 7 Donnie Wilson 4:07.929 21 laps 9 26.405 6 85.211 mi/h
23 55 Allison Ricci 3:39.247 22 laps 8 26.454 5 85.053 mi/h
24 4V Billy VanInwegen 47.909 28 laps 2 23.809 1 94.502 mi/h
HO PENN SMALL BLOCK FEATURE
Pos Competitor Total Time Diff Laps Best Lap Best Lap No. Best Speed
1 44P Anthony Perrego 25:26.926 0.000 45 24.407 29 92.187 mi/h
2 63R Billy VanInwegen 25:33.421 6.495 45 24.609 2 91.43 mi/h
3 26R Corey Cormier 25:36.814 9.888 45 24.864 13 90.492 mi/h
4 17Z Dillion Steuer 25:37.101 10.175 45 24.463 3 91.976 mi/h
5 93X Craig Mitchell 25:42.226 15.300 45 25.009 3 89.968 mi/h
6 33R Patrick Reiser 25:42.251 15.325 45 25.157 11 89.438 mi/h
7 43 Jimmy Horton 25:43.100 16.174 45 25.022 8 89.921 mi/h
8 16x Danny Creeden 25:44.281 17.355 45 24.865 2 90.489 mi/h
9 28 Jimmy Spellmon 25:45.716 18.790 45 25.331 12 88.824 mi/h
10 37 Alex Tonkin 25:47.538 20.612 45 25.365 22 88.705 mi/h
11 91F Bobby Flood 25:48.293 21.367 45 25.347 26 88.768 mi/h
12 5L Charlie Loidice 25:48.942 22.016 45 25.327 5 88.838 mi/h
13 83 Chris Stevens 25:52.009 25.083 45 25.744 41 87.399 mi/h
14 2A Mike Gular 25:52.786 25.860 45 25.655 38 87.702 mi/h
15 55 Allison Ricci 25:31.147 1 lap 44 25.919 3 86.809 mi/h
16 21III Gary Edwards III 25:35.575 2 laps 43 25.736 43 87.426 mi/h
17 7S Michael Sabia 25:38.417 2 laps 43 26.214 2 85.832 mi/h
18 20B Joe Bonetti 25:38.326 3 laps 42 26.242 7 85.74 mi/h
19 3R Richard Smith 23:55.762 7 laps 38 26.574 34 84.669 mi/h
20 10R Ryan Walther 25:41.152 8 laps 37 26.405 16 85.211 mi/h
21 33.3 Tommy Meier 22:34.627 10 laps 35 26.380 12 85.292 mi/h
22 4SL Bob Hentschel 14:46.285 19 laps 26 25.976 9 86.618 mi/h
23 24S Matt Shultz 13:58.787 22 laps 23 26.091 6 86.237 mi/h
24 94 Joey Coppola 5:19.287 33 laps 12 25.894 10 86.893 mi/h
25 88H Jerry Higbie 2:46.959 39 laps 6 27.081 5 83.084 mi/h
26 69 Tyler Boniface 1:49.269 41 laps 4 26.528 3 84.816 mi/h
27 12 Ryan Macartney 1:56.614 41 laps 4 27.289 2 82.451 mi/h
ARKEL MOTORS SPORTSMAN
Pos Competitor Total Time Diff Laps Best Lap Best Lap No. Best Speed
1 80 Dom Roselli 21:58.955 0.000 20 25.208 7 89.257 mi/h
2 24B Joe Bruning 22:00.377 1.422 20 25.125 7 89.552 mi/h
3 72H Kasey Hufcut 22:04.015 5.060 20 25.268 6 89.045 mi/h
4 97C Cody Higbie 22:04.156 5.201 20 25.603 10 87.88 mi/h
5 4A Josh Allen 22:04.320 5.365 20 25.525 14 88.149 mi/h
6 395 Jake Bedell 22:07.332 8.377 20 25.747 14 87.389 mi/h
7 7S Michael Sabia 22:08.123 9.168 20 25.849 17 87.044 mi/h
8 5N Ryan Niger 22:09.751 10.796 20 25.393 1 88.607 mi/h
9 85L Greg Sleight 22:10.024 11.069 20 25.884 9 86.926 mi/h
10 69T Travis Green 22:12.184 13.229 20 25.989 11 86.575 mi/h
11 11T Mike Travis 22:14.245 15.290 20 26.123 11 86.131 mi/h
12 1T Tighe Sherlock 22:16.904 17.949 20 26.226 20 85.793 mi/h
13 51 Jared Labagh 22:18.499 19.544 20 26.368 13 85.331 mi/h
14 18W Bobby Waters 22:22.168 23.213 20 26.329 9 85.457 mi/h
15 63 Tyler Banks 22:23.752 24.797 20 26.488 8 84.944 mi/h
16 186 Frank Frasco 22:24.779 25.824 20 26.582 6 84.644 mi/h
17 399 Nick Giardini 22:01.712 1 lap 19 26.496 17 84.918 mi/h
18 15S Dylan Smith 22:02.678 1 lap 19 26.610 19 84.555 mi/h
19 12T Tyler Peet 22:03.731 1 lap 19 26.726 18 84.188 mi/h
20 11D Drew Boniface 22:06.108 1 lap 19 26.827 9 83.871 mi/h
21 1X Jeffrey Tubbs 22:06.885 1 lap 19 26.554 1 84.733 mi/h
22 54 Rafaele Carson 22:07.663 1 lap 19 26.820 13 83.893 mi/h
23 14S Austin Smith 22:15.768 1 lap 19 27.374 10 82.195 mi/h
24 97B John Bockhorn 21:14.653 3 laps 17 27.089 13 83.06 mi/h
25 17 Brian Krummel 17:33.677 11 laps 9 27.482 7 81.872 mi/h
26 55 John Kendall 10:34.963 18 laps 2 27.803 1 80.927 mi/h
NORTHEAST AUTO PARTS STREET STOCKS
Pos Competitor Total Time Diff Laps Best Lap Best Lap No. Best Speed
1 46 Dillon Gannon 20:56.485 0.000 15 30.535 4 73.686 mi/h
2 32 Charlie Donald 20:57.899 1.414 15 31.076 14 72.403 mi/h
3 86X Billy Deak Jr 20:59.665 3.180 15 31.464 14 71.51 mi/h
4 07 Ryan Modiano 21:00.056 3.571 15 31.439 15 71.567 mi/h
5 8 Bobby Sleight Jr 21:01.300 4.815 15 31.339 7 71.796 mi/h
6 1 Mike Vigiletti 21:01.854 5.369 15 30.674 8 73.352 mi/h
7 171 Walt Henry 21:02.402 5.917 15 31.636 8 71.122 mi/h
8 58 Wayne Taylor 21:03.184 6.699 15 31.832 5 70.684 mi/h
9 110 Ben Richard 21:04.232 7.747 15 32.074 8 70.15 mi/h
10 6 Tyler Romer 21:04.336 7.851 15 32.141 5 70.004 mi/h
11 75 Ray Tarantino 21:05.232 8.747 15 31.570 12 71.27 mi/h
12 33 Doug Sterling 21:05.449 8.964 15 32.213 3 69.848 mi/h
13 49 Ron Constable 21:06.070 9.585 15 31.855 9 70.633 mi/h
14 414 John Tucker 21:06.261 9.776 15 31.394 2 71.67 mi/h
15 3C Cody Clark 21:11.432 14.947 15 32.159 4 69.965 mi/h
16 191 Jack Beaumont 20:28.687 1 lap 14 31.702 8 70.973 mi/h
17 1L Izzy Lowden 21:14.304 1 lap 14 33.337 13 67.493 mi/h
18 45 Jim Hajkowski 7:48.100 5 laps 10 31.461 7 71.517 mi/h