5/18/19 - RACE WIN TO MODIFIED DRIVER CRAIG MITCHELL, SPORTSMAN TO JARED LABAGH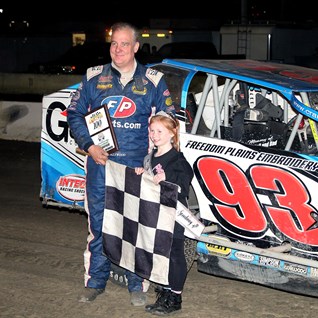 By FRANK CATIZONE
MIDDLETOWN, NY – Anthony Perrego was on the verge of sweeping all of his Modified competition for the entire month of May at the Orange County Fair Speedway.
Perrego, after pocketing $6,000 for winning the held-over 30-lap feature from May 11, was well on his way to capturing his third straight victory Saturday night when disaster struck with 22 laps completed. The talented Montgomery driver collided with C.G. Morey in the third turn and was forced out of the event.
Perrego, obviously unhappy with the collision, exited his car and headed in Morey's direction. The altercation forced OCFS officials to disqualify Perrego for his actions – stripping any points or money he would have earned for the race. OCFS rules state that any driver leaving his or her car on the track receives an automatic disqualification.
Perrego's exit handed first place over to Craig Mitchell and he went on to pick up his first victory of the season in the 30-lap race with Brett Hearn, Tommy Meier, Jerry Higbie and John Ferrier rounding out the top five.
Mitchell, who started fourth in the 30-car race, was able to move past Higbie for second place on the eighth lap as Perrego was running away from the field. Mitchell was unable to stay close despite a series of cautions as the race progressed.
An altercation involving Rich Eurich and Morey on the backstretch with 13 laps completed tightened the field, but once again, Perrego was able to build a straightaway lead until approaching Morey in the third turn on the 22nd circuit. Matt Janiak also stopped in the fourth turn.
"I really couldn't see what happened with Perrego because he was so far ahead,'' said Mitchell. "It's unfortunate for him. But this was my first Modified win in several years and the car was really fast all night. In fact, we've been fast all season and it's nice to finally get a win.''
Mitchell, who picked up his last victory here on July 16, 2016, now has six OCFS career Modified triumphs as he held off Hearn to the checkered flag.
Perrego picked up his seventh OCFS career win earlier in the evening as he was able to outrace Janiak, Brian Krummel, Morey and Ferrier to the finish.
Perrego, who has been the fastest car on the track all season, started 11th in the event. Hearn, who continues to lead the standings, was the hard charger for the race as he finished in sixth place after starting 26th.
In Sportsman action, Jared LaBagh was able to sweep all of his competition as he won a pair of 20-lap features to push his career total to five at the track.
"I just tried to stay out of trouble and avoided the bumps out there,'' said LaBagh. "My car was really fast, and I just ran my line and hit my marks.''
LaBagh picked up his first win of the night when he outraced Matt Shultz, Joe Bonetti, Bobby Flood and Joe Conklin. The event was checkered after 17 laps because of the time curfew.
LaBagh later grabbed first place away from Billy Eggers Jr. following a fifth-lap restart and then wenty to to finish ahead of Eggers, Sam Martz Jr., Shultz and Dan Morgiewicz.
Jake Bedell won the Sportsman Non-Qualifers 8-lap race.
Bob Sleight Jr. grabbed his second victory of the season in Street Stock competition as he finished ahead of Joe Scheffold, Mike Vigiletti, Dan Maher and Jim Maher in the 15-lap feature.
Sleight, after starting 10th in the 22-car field, inherited first place on the ninth lap when leader Jim Maher was forced to the pits with a right rear flat. Maher still managed to race back to a fifth-place effort.
Modified Feature Finish, 30 Laps: 1. Craig Mitchell, 2. Brett Hearn, 3. Tommy Meier, 4. Jerry Higbie, 5. John Ferrier, 6. Brian Krummel, 7. Jeff Heotzler Sr., 8. Mike Gular, 9. Donnie Wilson, 10. Chris Whitehead, 11. Gary Edwards Jr., 12. Danny Cronk, 13. Matt Hitchcock, 14. C.G. Morey, 15. Matt Janiak, 16. Patrick Reiser, 17. Sam Martz Sr., 18. Rich Eurich, 19. Dominic Roselli, 20. Danny Creeden, 21. John Lieto, 22. Jimmy Horton, 23. Bob McGannon, 24. Steve Dodd, 25. Brendan Finley, 26. Stan Frankenfield Jr., 27. Chris Shultz, 28. Tim Hindley, 29. Scott Ferrier. Did Not Start: Tyler Jashembowski. Disqualified: Anthony Perrego (exiting car).
Modified Feature (Held over from May 11) Finish: 1. Anthony Perrego, 2. Matt Janiak, 3. Brian Krummel, 4. C.G. Morey, 5. John Ferrier, 6. Brett Hearn, 7. Tommy Meier, 8. Craig Mitchell, 9. Danny Creeden, 10. Jerry Higbie, 11. Jimmy Horton, 12. Chris Whitehead, 13. Brendan Finley, 14. Sam Martz Sr., 15. Rich Eurich, 16. Gary Edwards Jr., 17. John Lieto, 18. Mike Gular, 19. Dany Cronk, 20. Bob McGannon, 21. Steve Dodd, 22. Stan Frankenfield Jr., 23. Matt Hitchcock, 24. Donnie Wilson, 25. Dominic Roselli, 26. Chris Shultz, 27. Tim Hindley, 28. Jeff Heotzler Sr. Did Not Start: Bill VanInwegen. Disqualified: Corey Lowitt (illegal car).
Sportsman Feature Finish, 20 Laps: 1. Jared LaBagh, 2. Billy Eggers Jr., 3. Sam Martz Jr., 4. Matt Shultz, 5. Dan Morgiewicz, 6. Grant Hilfiger, 7. Aaron Doolitle, 8. Jesse Leiby, 9. Bob Jashembowski, 10. Joe Bonetti, 11. Greg Sleight, 12. Jimmy Leiby, 13. Jeff Higham Jr., 14. Jared Miller, 15. Ken Ryder, 16. Kevin Ward, 17. Willis Mann, 18. Joe Conklin, 19. Troy Arnold, 20. Rob Wosyluk, 21. Ryan Neiger, 22. Ken Ferrier, 23. Christian Rumsey, 24. Jordan Lawrence, 25. Danny Carlough, 26. Bobby Flood.
Sportsman Feature (Held over from May 11) Finish, 17 laps (time curfew): 1. Jared LaBagh, 2. Matt Shultz, 3. Joe Bonetti, 4. Bobby Flood, 5. Joe Conklin, 6. Greg Sleight, 7. Grant Hilfiger, 8. Michael Sabia, 9. Ken Ferrier, 10. Jimmy Leiby, 11. Dan Morgiewicz, 12. Mel Schrufer, 13. Troy Arnold, 14. Bob Jashembowski, 15. R.J. Smith, 16. Christian Rumsey, 17. Jesse Leiby, 18. Jordan Lawrence, 19. Kevin Ward, 20. Charlie Loiodice, 21. Ken Ryder, 22. Daryl Ford, 23. Danny Carlough, 24. Nick Plumstead. Did Not Start: Tyler Johnston, Corey Cormier. Disqualified: Howie Finch III.
Sportsman Non-Qualifiers Race Finish, 8 Laps: 1. Jake Bedell, 2. Charlie Loiodice, 3. John Kendall, 4. Mike Bull, 5. Michael Giuliano, 6. Kevin Murphy, 7. Pat Mann. Did Not Start: Mel Schrufer, R.J. Smith, Daryl Ford, Russell Crotty, Bob Hallabeck, Rich Egger, Emily Doty, Jamie Doolan, Jeff Jones, Marshal Jones, Nick Plumstead.
Street Stock Feature Finish, 15 Laps: 1. Bob Sleight Jr., 2. Joe Scheffold, 3. Mike Vigiletti, 4. Dan Maher, 5. Jim Maher, 6. Emerson Cargain Sr., 7. Rob Taylor, 8. Ryan Modiano, 9. Jim Hajkowski, 10. Charlie Donald, 11. Ron Constable, 12. Emerson Cargain Jr., 13. Bob Miller, 14. Tim Daly, 15. Jared Miller, 16. Ray Tarantino, 17. Wayne Taylor, 18. Kevin Skelly, 19. Jay Pepin, 20. Walt Henry, 21. Edgar Hedges, 22. Tommy Pickles. Did Not Start: Pat Runo.