4/27/19 - RACE WINS TO BIG BLOCK DRIVER BILLY VANINWEGEN, SMALL BLOCK VET BRETT HEARN AND SPORTSMAN CHAMP GREG SLEIGHT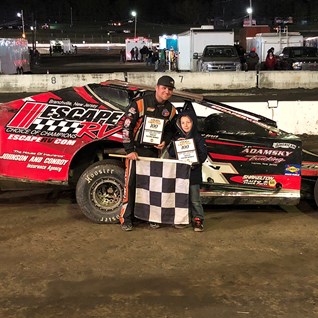 By FRANK CATIZONE
MIDDLETOWN, NY – Billy VanInwegen drove to an impressive victory in Saturday night's 30-lap Modified feature at the Orange County Fair Speedway.
VanInwegen, who is back behind the wheel of the Joe Barbagallo Jr. owned No. 4V Modified car, said his fourth OCFS career victory provided a real boost to the entire racing team.
"We really needed this win,'' said VanInwegen. "It's been a long time coming and this is something that's really going to lift our spirits. This car was just awesome tonight and I was really able to get around the track without too much problem. We have a real good engine built by Precision and I can't  thank the Markle family enough for letting me race with it.''
VanInwegen, who won his last OCFS race on June 18, 2016, started third in the 30-car field and jumped into second place behind early leader Tyler Dippel on the second lap. But Anthony Perrego passed VanInwegen a lap later and then inherited first place when Dippel's car slowed coming down the homestretch with four laps in the books.
VanInwegen, who was racing well on the outside, got the jump on Perrego during the ensuing restart and vaulted into the lead. Perrego, who set fast time in the hot lap sessions with a time of 21.808 seconds (103.173 miles per hour) then provided constant pressure on VanInwegen as the race progressed.
"He showed himself once to me, but I just held my ground,'' said VanInwegen. "I just worried about hitting my marks because I knew I had a real good race car tonight. It was like a rocket ship out there.''
Perrego's bid for victory came to an end on the 19th lap when he slowed off the second turn and stopped to force the race's final caution. Perrego was forced to exit with rear end problems on his car.
Matt Janiak, meanwhile, who raced among the top four the entire race, inherited second when Perrego pitted, but really never mounted a challenge as VanInwegen drove to the checkered flags without much problem. Brian Krummel followed in third place with Brett Hearn, Craig Mitchell, Mike Gular, Tommy Meier, Danny Creeden, Jimmy Horton and Jerry Higbie rounding out the top 10.
Hearn, who has returned to OCFS for the 2019 racing campaign, didn't take too long to find his way back to victory lane as he passed Krummel on the final lap to score a thrilling triumph in the Small Block Modified 25-lap main event.
Hearn, the track's all-time winner with 306 combined victories, capitalized on lapped traffic entering the third turn to slip past Krummel for his 114th Small Block win at the track.
"I got a real good run off the second turn on the last lap,'' said Hearn. "Krummel tried to get underneath a lapped car going into the turn, but he got pinched inside and I was able to drive around him. It was a real exciting finish and that's win No. 1 for 2019.''
Krummel, the reigning Small Block champion, appeared well on his way to opening the season with back-to-back wins as he dominated the event after grabbing first place on the second lap. But a caution with 14 laps completed tightened the field and provided Hearn with his opportunity to steal the win.
Hearn was able to remain within striking distance of Krummel as the race progressed before finding his way past Krummel on the final lap. Jerry Higbie followed in third place with Jimmy Spellmon and Creeden rounding out the top five.
Defending track champion Greg Sleight bounced back from some early-season woes to pick up his first win of 2019 in the Sportsman 20-lap feature ahead of Grant Hilfiger, Kevin Ward, Ryan Macartney and Jared LaBagh.
Sleight, who ranks third on the all-time OCFS leader board with 25 career wins, led from the opening lap and never trailed despite the presence of Hilfiger, who was seeking his third straight victory. Hilfiger is calling OCFS his Saturday night home for the first time in a decade.
But Sleight was too strong this time around as Hilfiger had to settle for a strong second-place effort.
Modified Feature Finish. 30 Laps: 1. Billy VanInwegen, 2. Matt Janiak, 3. Brian Krummel, 4. Brett Hearn, 5. Craig Mitchell, 6. Mike Gular, 7. Tommy Meier, 8. Danny Creeden, 9. Jimmy Horton, 10. Jerry Higbie, 11. Brendan Finley, 12. Jeff Heotzler Sr., 13. Rich Eurich, 14. Chris Whitehead, 15. Matt Hitchcock, 16. Tyler Jashembowski, 17. Bob McGannon, 18. Gary Edwards Jr., 19. John Ferrier, 20. Sam Martz Sr., 21. Stan Frankenfield Jr., 22. Anthony Perrego, 23. Chris Shultz, 24. C.G. Morey, 25. Steve Dodd, 26. Donnie Wilson, 27. Danny Cronk, 28. Tyler Dippel, 29. Tim Hindley, 30. John Lieto.
Small Block Modified Feature Finish, 25 Laps: 1. Brett Hearn, 2. Brian Krummel, 3. Jerry Higbie, 4. Jimmy Spellmon, 5. Danny Creeden, 6. Anthony Perrego, 7. Dillon Steuer, 8. Shane Jablonka, 9. Joey Bruning, 10. Mike Gular, 11. Gary Edwards Jr., 12. Matt Janiak, 13. Mike Ricci. 14. Craig Mitchell, 15. Brendan Finley, 16. Allison Ricci, 17. Scott Flammer, 18. C.G. Morey, 19. Jesse Leiby, 20. Tommy Meier, 21. Zack Vavricka, 22. Michael Sabia, 23. Chris Stevens, 24. Richard Smith, 25. Billy VanInwegen, 26. Joe Bonetti, 27. Patrick Reiser, 28. Roger Henion Jr., 29. Tom Hindley. Did Not Start: Tyler Boniface. Did Not Qualify: Rich Eurich, Cole Hentschel, Frank Doty, Danny Hedges, Joe Conklin, Scott Ferrier, Tyler Treacy, Bob Jashembowski, Chris Grbac, Bob Hentschel, Joey Falanga, Frank Venezia, Rich Eggers, Leo Fotopoulos, Kirk Horton.
Sportsman Feature Finish, 20 Laps: 1. Greg Sleight, 2. Grant Hilfiger, 3. Kevin Ward, 4. Ryan Macartney, 5. Jared LaBagh, 6. Joe Conklin, 7. Howie Finch III, 8. Matt Shultz, 9. Dan Morgiewicz, 10. Jake Bedell, 11. Michael Sabia, 12. Charlie Loiodice, 13. Bobby Flood, 14. John Brown, 15. Jordan Lawrence, 16. Jesse Leiby, 17. Kenny Ryder, 18. Christian Rumsey, 19. Danny Carlough, 20. John Aumick, 21. Cole Stangle, 22. Troy Arnold, 23. Jamie Yannone, 24. Robbie Knipe, 25. Sammy Martz Jr., 26. Daryl Ford, 27. Joe Bonetti, 28. Tighe Sherlock. Did Not Qualify: Bob Jashembowski, Mel Schrufer, Jimmy Leiby, Trevor Arnold, Mike Orlando, Scott Zehnacker, Austin Smith, Billy Eggers Jr., Bryan Jones, R.J. Smith, Mike Talmadge, Winter Mead, Ken Ferrier, Jamie Doolan, Jimmy Johnson, Nick Plumstead, Jason Armstrong, John Farissier, Robbie Colburn, Austin Smith, Willis Mann, Don Smith Jr., Ryan Neiger, Keith Johannessen, Pat Mann, Anthony Sisco, Hunter Lapp, Mike Bull, Kyle Redner, Michael Giuliano, John Kendall, Julion Marrinan, Jeff Jones, Jared Miller, Marshall Jones, Chet Doolan.