07/13/19 - Anthony Perrego Wins both 358 SB Mod Features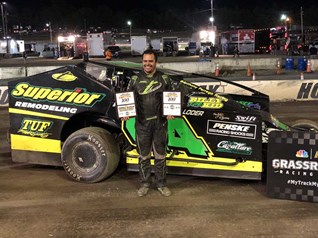 By FRANK CATIZONE
MIDDLETOWN – Anthony Perrego christened the new racing surface at the Orange County Fair Speedway with the best night of his Small Block Modified racing career Saturday evening as he dismantled all of his competition by sweeping a pair of 25-lap feature races.
Perrego, who has been in the midst of a rocky 2019 racing campaign, sent a clear message to the OCFS audience that he's going to be in the thick of the Small Block title contention for the remainder of the season. The Montgomery driver, who picked up his first two wins here in 2019, vaulted into a second-place tie with Brian Krummel in the standings.
Brett Hearn took over first place in the Small Block ranks with 444 points behind his second-place performance in the 25-lap nightcap. But Perrego and Krummel are right on his tail with 436 points apiece, with Jerry Higbie (434) and Craig Mitchell (412) rounding out the top five.
Allison Ricci, who finished third in the second feature, moved into sixth place with 398 markers. She's followed by Tyler Boniface (384), Danny Creeden (378), Dillon Steuer (374) and Mike Gular (374).
Perrego, who won the second qualifying race to start outside pole for the first feature, got the jump on Billy VanInwegen and never looked back as only half of the starting 28-car field finished on the lead lap. Perrego finished more than seven seconds ahead of VanInwegen in a race that took just 10 minutes and 48.711 seconds to finish.
VanInwegen took the checkered flag more than a straightaway behind Perrego with Krummel, Mitchell, Higbie, Boniface, Hearn, Gular, Brendan Finley and Ricci following.
Perrego then handed Ricci the pole for the second feature when he pulled the number 10 in victory lane for the inversion.
Ricci, who enjoyed her best OCFS finish in the event, raced out to the early lead and was able to put a little distance on the 29-car field during the early stages. But Hearn finally starting closing in on Ricci and was able to move into first place while racing into the third turn on the 11th lap.
Perrego, meanwhile, who started 10th, was picking off cars working towards the front and broke into the top five by the fifth lap. He passed Gular for third place by the 12th circuit around the five-eighths mile track and moved ahead of Ricci a lap later.
Perrego now only had Hearn between himself and a sweep for the night as he quickly closed in with lapped traffic approaching. Perrego was able to make his winning move off the second turn as he snuck underneath Hearn on the 16th lap.
"Brett got caught up in the lapped traffic and I was able to snuck underneath him in the second turn,'' said Perrego. "This was the first time I've ever won two races here in the same night and this car was just awesome. I was obviously pleased with the new racing surface and it was really smooth out there. There were no holes at all.
"We've had a rough season up until tonight, so hopefully, this will get us pointed in the right direction. I just want to thank Brian Smith and our entire crew for all they do to get us here (victory lane).''
Perrego then ran away to the checkered flags in another caution-free event as Hearn finished more than five seconds behind. Ricci, Gular, Higbie, Finley, Mitchell, Richard Smith, VanInwegen and Creeden rounded out the top five.
Small Block Modified Feature Finish, 25 Laps: 1. Anthony Perrego, 2. Billy VanInwegen, 3. Brian Krummel, 4. Craig Mitchell, 5. Jerry Higbie, 6. Tyler Boniface, 7. Brett Hearn, 8. Mike Gular, 9. Brendan Finley, 10. Allison Ricci, 11. Richard Smith, 12. Jimmy Spellmon, 13. Danny Creeden, 14. Chris Stevens, 15. Kirk Horton, 16. Joe Bonetti, 17. Joey Bruning, 18. Roger Henion Jr., 19. Gary Edwards Jr., 20. Dillon Steuer, 21. Shane Jablonka, 22. Patrick Reiser, 23. Bob Hentschel, 24. Tommy Meier, 25. Ray Jashembowski, 26. Rich Eurich, 27. Tyler Treacy, 28. Matt Shultz. Did Not Start: Anthony Falanga.
Small Block Modified Feature Finish, 25 Laps: 1. Anthony Perrego, 2. Brett Hearn, 3. Allison Ricci, 4. Mike Gular, 5. Jerry Higbie, 6. Brendan Finley, 7. Craig Mitchell, 8. Richard Smith, 9. Billy VanInwegen, 10. Danny Creeden, 11. Jimmy Spellmon, 12. Chris Stevens, 13. Tyler Boniface, 14. Kirk Horton, 15. Dillon Steuer, 16. Brian Krummel, 17. Gary Edwards Jr., 18. Roger Henion Jr., 19. Patrick Reiser, 20. Shane Jablonka, 21. Bob Hentschel, 22. Tommy Meier, 23. Joey Bruning, 24. Ray Jashembowski, 25. Joe Bonetti, 26. Anthony Falanga, 27. Michael Sabia, 28. Matt Shultz, 29. Rich Eurich. Did Not Start: Tyler Treacy. Did Not Qualify: Mike Kolka, Frank Venezia, Dan Hedges, Mark Bishop, Scott Ferrier, Dan Morgiewicz, Jeff Heotzler Sr., Tom Hindley.