06/22/19 - Billy V. Wins Big Block Mod Feature, 358 SB Mod to Tyler Boniface and Sportsman to Jared LaBagh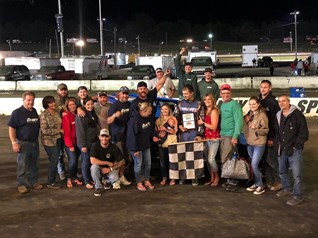 By FRANK CATIZONE 
MIDDLETOWN, NY – Billy VanInwegen's evening began on a sour note last Saturday as both cars he drives were experiencing problems at the Orange County Fair Speedway. 
However, with some quick work provided by his racing team, VanInwegen had his problems ironed out just minutes before the 30-lap Modified feature took center stage and then went on to capture his second victory of the 2019 season. 
"Things looked pretty bleak early in the night,'' said VanInwegen. "We had issues with both cars and I had to run the Modified group timed hot laps with no brakes. Luckily, I finished in the top 12 and didn't have to run a qualifying heat. 
"That gave us the time we needed to get the job done. The whole crew busted their butts and we were able to get the brakes fixed just before the Modified feature was set to go. Our whole team really did a great job getting the Joe Barbagallo Jr. No. 4V ready and I can't thank them enough.'' 
VanInwegen, who turned in the sixth quickest time in the group hot lap sessions, caught another break when Craig Mitchell's spin on the inversion wheel landed on No. 6. That put the Sparrowbush driver on the pole for the main event and he took it from there. 
VanInwegen, after pacing the 33-car field, was able to stay clear of several accidents during the caution-marred event to pick up his fifth career OCFS win ahead of Chris Whitehead, Craig Mitchell, Brian Krummel, Anthony Perrego, Brett Hearn, Tommy Meier, Jimmy Horton, Mike Gular and Michael Storms. 
The race, which was cautioned eight times, was red-flagged after nine laps were completed because of a multi-car pileup in the first turn involving 10 cars. Danny Cronk's car sustained serious damage as nine of the competitors were forced to retire for the night. 
Mitchell and VanInwegen actually turned in the quickest laps of the night during the second group session for the Modifieds. Mitchell toured the five-eighths mile in 21.553 seconds (104.394 seconds) to set fast time with VanInwegen's :21.556 (104.379 mph) close behind. Hearn was the first on the track in the opening session and was next in line at :21.567. 
The Modified heat races were won by Gular and Horton. Stan Frankenfield Jr. was the hard charger for the Modifieds – advancing 13 positions from 30th to 17th in the feature. 
Tyler Boniface took advantage of his starting position in the Small Block Modified ranks as he captured his first victory of the season in the 25-lap main event. It was the second career OCFS win for the Pine Bush driver, who earned his initial triumph here on June 30, 2018. 
Boniface, who started outside pole, got the jump on VanInwegen at the start and never trailed throught despite the presence of Perrego throughout the event. Perrego grabbed second from VanInwegen on the 10th lap, but was unable to find a way past Boniface. 
Perrego settled in for a second-place effort with Gary Edwards Jr., Allison Ricci, Jerry Higbie, Mitchell, Hearn, Krummel, Shane Jablonka and Bob Hentschel rounding out the top 10. 
Higbie turned in the quickest time in the Small Block Modified hot lap group sessions with a clocking of 22.254 seconds (101.105 mph) and Perrego was second in :22.309 (100.856 mph). 
The three heat races for the Small Blocks were won by Mitchell, Hearn and Matt Janiak. Meier won the consolation race. 
Jared LaBagh robbed Sam Martz Jr. of his first career OCFS victory in Sportsman competition when he turned a final lap pass into his third triumph of the season in the 20-lap feature race. 
LaBagh, who now has six career wins at the track, found his way past Martz off the second turn on the final lap and then went on to score the exciting victory. 
"I think he might have gotten messed up with one of those dips through the first and second turns, said LaBagh. "Because his car pushed out towards the wall and I was able to just go by underneath him racing off the second turn.'' 
Martz, who started outside pole, led from the drop of the green flag and looked well on his way to his initial win until LaBagh entered the picture. Martz settled for second with Daryl Ford, Ken Ferrier and Grant Hilfiger rounding out the top five. 
The four Sportsman heats were won by Charlie Loiodice, Martz, Jimmy Leiby and LaBagh. Dreg Sleight and Mel Schrufer won the consolation races. 
Kevin Skelly picked up his first victory of the season in the Street Stock feature as he finished ahead of Jim Hajkowski, Rob Taylor, Jim Maher and Bob Sleight Jr. The scheduled 15-lap race was halted after 11 laps because of the time curfew. 
Skelly, an on and off competitor at OCFS for many seasons, picked up the 11th victory of his career at the track – deadlocking Julius Pepin and John Hechinger for 12th place on the all-time Street Stock leader board. 
Modified Feature Finish, 30 Laps: 1. Billy VanInwegen, 2. Chris Whitehead, 3. Craig Mitchell, 4. Brian Krummel, 5. Anthony Perrego, 6. Brett Hearn, 7. Tommy Meier, 8. Jimmy Horton, 9. Mike Gular, 10. Michael Storms, 11. Jerry Higbie, 12. Gary Edwards Jr., 13. Bob McGannon, 14. Tyler Boniface, 15. Sam Martz Sr., 16. Brendan Finley, 17. Stan Frankenfield Jr., 18. John Ferrier, 19. C.G. Morey, 20. Matt Hitchcock, 21. Rich Eurich, 22. Danny Creeden, 23. Tim Hindley, 24. Kirk Horton, 25. Danny Cronk, 26. Matt Janiak, 27. Chris Shultz, 28. Tyler Jashembowski, 29. Steve Dodd, 30. Donnie Wilson, 31. Dominic Roselli, 32. Josh Delea, 33. Corey Lowitt. Did Not Start: Dillon Steuer. 
Small Block Modified Feature Finish, 25 Laps: 1. Tyler Boniface, 2. Anthony Perrego, 3. Gary Edwards Jr., 4. Allison Ricci, 5. Jerry Higbie, 6. Craig Mitchell, 7. Brett Hearn, 8. Brian Krummel, 9. Shane Jablonka, 10. Bob Hentschel, 11. Michael Sabia, 12. Tommy Meier, 13. Dillon Steuer, 14. Richard Smith, 15. Joey Bruning, 16. Jimmy Spellmon, 17. Roger Henion Jr., 18. Patrick Reiser, 19. Joe Bonetti, 20. Cole Hentschel, 21. Danny Creeden, 22. Mike Gular, 23. Rich Eurich, 24. Billy VanInwegen, 25. Frank Venezia, 26. Scott Ferrier. Did Not Start: Matt Janiak, Brendan Finley. Did Not Qualify: Ray Jashembowski, Dominic Roselli Jr., Anthony Falanga, Kirk Horton, Mark Bishop, Chris Stevens, Chris Grbac, Tom Hindley. 
Sportsman Feature Finish, 20 Laps: 1. Jared LaBagh, 2. Sam Martz Jr., 3. Daryl Ford, 4. Ken Ferrier, 5. Grant Hilfiger, 6. Charlie Loiodice, 7. Michael Sabia, 8. Jimmy Leiby, 9. Christian Rumsey, 10. Greg Sleight, 11. Joe Bonetti, 12. Clinton Mills, 13. Patrick Murphy, 14. Ryan Neiger, 15. Mel Schrufer, 16. Trevor Arnold, 17. Ken Ryder, 18. Troy Arnold, 19. Don Smith, 20. Dan Morgiewicz, 21. Joe Conklin, 22. Jared Miller, 23. R.J. Smith, 24. Jake Bedell, 25. Matt Shultz, 26. Dylan Smith, 27. Billy Eggers Jr. Did Not Qualify: A.J. Smith, Julion Marrinan, Rob Wosyluk, Rich Eggers, Austin Smith, Milton Mann, Jamie Doolan, Michael Orlando, Jeff Higham, Mike Bull, Jeff Jones, Pat Mann, Willis Mann. 
Street Stock Feature Finish, 11 Laps (time curfew): 1. Kevin Skelly, 2. Jim Hajkowski, 3. Rob Taylor, 4. Jim Maher, 5. Bob Sleight Jr., 6. Ryan Modiano, 7. Mike Vigiletti, 8. Edgar Hedges, 9. Ron Constable, 10. Emerson Cargain Sr., 11. Dillon Gannon, 12. Joe Scheffold, 13. Kevin Colman, 14. Charlie Donald, 15. Dan Maher, 16. Paul Maiolo, 17. Wayne Taylor, 18. Emerson Cargain Jr. Did Not Start: Ray Tarantino.