Who To Watch For on Aug 19 WOO Late Models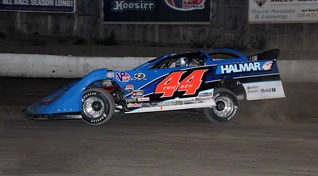 The World of Outlaws Late Models series returns to OCFS after nearly 2 decades! For race fans who may be out of loop, let's introduce some of the key players on Thursday August 19's upcoming race at Orange County Fair Speedway.
Stewart Friesen should be familiar to race fans, as he is currently the top dog of Dirt Modified racing and makes regular OCFS appearances in his no.44 Big Block Modified. For 2021, Friesen expanded his racing efforts to include Dirt Late Models. With wins in The Super DIRTcar Series and World of Outlaws Sprints, Friesen could become the first driver to win a race in all 3 of World Racing Groups major dirt racing series if he can win in his late model at OCFS. Being perhaps the driver with the most the experience at OCFS, we think his chances are pretty good! He will also go into the race as OCFS's most recent feature winner, after his SDS win on 8/12 for the Centennial 102 race.
Brandon Sheppard of the no.1 Valvoline car is the current WoO Late Model points leader. He has 4 series wins in 2021, tied with second place points man, Chris Madden of the no.44 Drydene car. Both these drivers are certainly ones to watch and both will be looking to score that 5th win and secure their points leads!
2 series rookies, Tyler Bruening of the no.16 Bennet Explosives car and Ryan Gustin of the no.19r Tristar Engines car are locked in an epic points battle that would declare one of the two rookie of the year. They will be running hard to stake their claim, so make sure you've got eyes on these guys.
Rick Eckert, in the no.0 S.L. Shenberger Dump Truck Services car is not a WoO series regular but is a 2021 feature winner. He is also OCFS's last Late Model winner, dating back to 2004. Will experience at the House of Power give this already winning driver an advantage?
Join us on Thursday, August 19th for this once a year extravaganza! General admission tickets can be bought online, reserved can be purchased by calling the speedway office at 845-342-2573. PARTY DECK TIX ARE ALREADY SOLD OUT SO DON'T MISS YOUR CHANCE!