WEEKLY POINTS RACING CONTINUES AT ORANGE COUNTY FAIR SPEEDWAY SATURDAY, MAY 7 WITH A FOUR DIVISION PROGRAM AND THE JOEY FALANGA MEMORIAL RACE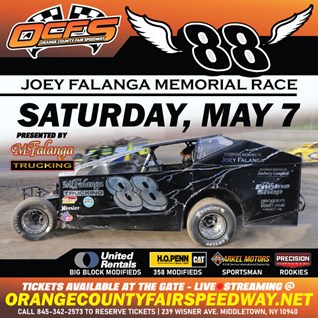 Weekly points racing continues this coming Saturday, May 7, at Orange County Fair Speedway with a four division program, including the United Rentals DIRTcar Big-Block Modifieds, the H.O. Penn Small-block Modifieds, the Arkel Motors Sportsman, and the second outing for the Precision Hydraulic & Oil Rookie Sportsman. Joey Falanga was an Orange County Fair  Speedway competitor who lost his life in a highway accident. His family and friends are honoring his memory with tonight's "Joey Falanga Memorial Race."
Qualifying races will set the fields for each of the open-wheel division feature races. The United Rentals DIRTcar Big-Block Modifieds, will race in a 30-lap feature, with a victor's prize of $3,000. The H.O. Penn Small-Block Modifieds have a 25-lap feature on tap, with the winner taking home $2,000. Should a driver win both Modified features, he or she will be rewarded with a $1,000 Wicked Truck Worx Sweep bonus, bringing his or her total winnings to $6,000. The winner of the Arkel Motors Sportsman 20-lap feature nets $1,000. The Precision Hydraulic & Oil Rookie Sportsman will take to the track in a 15-lap feature for the speedway's newest competitors.
For fans: Grandstand and Drive-In gates open at 4:00 pm. Reserved seat admission and reserved Drive-In parking $26, General admission $20, Senior/Military discount $16, Party Deck $140 (minimum 2, maximum 4). As always, kids 12 and under are admitted free for racing events. Other Fairgrounds parking is free. For advance reserved seating or Drive-In parking, call the Speedway Office during business hours at 845-342-2573.
For competitors: Pits open at 3:00 pm. Pit admission $35, OCFS member $30.
Racing begins at 6:30 pm.
Fans and competitors should frequently check the Orange County Fair Speedway website, www.orangecountyfairspeedway.net, for the latest news and information.
UPCOMING: May 14 Biker Weekend with the 45-lap, $4,500-to win Small-Block Modified "Whitey Memmelaar Memorial" feature race. Also Big-Block Modifieds, Sportsman, and Street Stocks