WEEKLY POINTS RACING CONTINUES AT ORANGE COUNTY FAIR SPEEDWAY SATURDAY, MAY 14 WITH A FOUR DIVISION PROGRAM AND A SPECIAL NIGHT OF REMEMBRANCE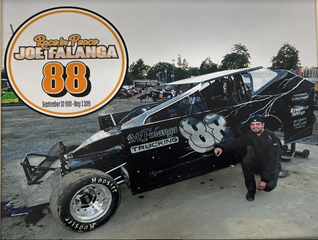 MIDDLETOWN, NY (May 9)…..Weekly points racing continues this coming Saturday, May 14, at Orange County Fair Speedway presented by Interstate Batteries with a four division program, including the United Rentals DIRTcar Big-Block Modified, the H.O. Penn Small Block Modified, the Arkel Motors Sportsman, and the NAPA Northeast Parts Group Street Stocks.
It is also a night to remember two of our Speedway family that have passed away.
Joey Falanga was an Orange County Fair Speedway competitor who lost his life in a highway accident. His family and friends are honoring his memory with the 30-lap, $3,000 to win "Joey Falanga Memoria Race" for the Big-Block Modified.
Whitey Memmelaar was a long-time car owner in Sportsman and Small-Block Modified divisions, with many top drivers wheeling his famous No. 45 race cars. Later, he served in several capacities at the Speedway. Orange County is proud to remember Whitey Memmelaar with the 45-lap, $4,500 to win Whitey Memmelaar Memorial Race for the Small-Block Modifieds.
Qualifying races will set the fields for each of the open-wheel division feature races. Should a driver win both Modified features, he or she will be rewarded with a $1,000 Wicked Truck Worx Sweep bonus, bringing his or her total winnings to $8,500. The winner of the Arkel Motors Sportsman 20 Lap feature nets $1,000. The NAPA Northeast Parts Group Street Stocks will take to the track in a 15-lap, $500 to win feature race.
Grandstand and Drive-in gates open at 4:00pm. Reserved Drive-in parking is $26, General admission $20, Senior/Military Discount $16, Party Deck $140 (minimum of 2, maximum of 4). As always, kids 12 and under are admitted free for racing events. Other Fairgrounds parking is free. For advance reserved drive-in parking, call the Speedway Office during business hours at (845)-342-2573. Only call to reserve parking Monday through Friday.
Fans holding "Buy One-Get One" coupons from May 7th may use them for the May 14th racing program.
The pits will open at 3:00pm with pit admissions being $35 for Non-Members and $30 for members. Racing begins at 6:30pm. 
Fans and Competitors should frequently check our website at www.orangecountyfairspeedway.net for the latest news and information.