UNITED RENTALS RENEWS, EXPANDS ITS MARKETING PARTNERSHIP WITH ORANGE COUNTY FAIR SPEEDWAY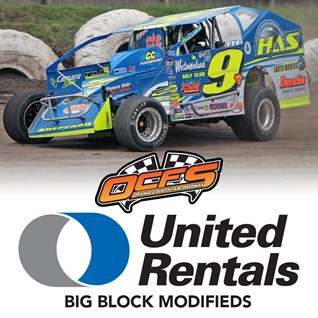 In a joint statement, local United Rentals locations have renewed and expanded their marketing partnership with Orange County Fair Speedway. Orange County's headline racing division is again officially the United Rentals DIRTcar Big-Block Modifieds and will be competing weekly and in special events throughout the 2022 season. In addition, United Rentals and Orange County Fair Speedway will coordinate marketing programs, both at the track and local United Rentals locations.
"Our local United Rentals locations are really excited to be back as a marketing partner with Orange County Fair Speedway and the title sponsor of the track's DIRTcar Big-Block Modifieds," said Richard Mikulski, Area General Manager of United Rentals Mid-Hudson Metro. "Orange County Fair Speedway's DIRTcar Big-Block Modified division includes many of the Northeast's top drivers with several from the Hudson River Valley and we're proud to support them. Also, many of our customers are race fans and involved at the speedway and in motorsports across the board. 2022 should be an exciting racing season at Orange County, and United Rentals will be meeting the winning Modified drivers in Victory Lane."
Orange County Fair Speedway's Director of Motorsports, Brett Hearn, added, "We're extremely pleased to welcome back United Rentals as our top division's title sponsor. But we're also a United Rentals customer, renting special equipment whenever it's needed, and especially in emergencies. We're eager to work with each of the United Rentals locations on marketing projects that will see a positive return." The 2022 Orange County Fair Speedway of weekly and special event racing officially kicks off Saturday, April 9 with a full four division program highlighted by the United Rentals DIRTcar Big-Block Modifieds 33-lap, $3,300-to win "Tommy Meier" feature race.
ABOUT UNITED RENTALS:
United Rentals is the largest rental equipment company in the world. The company has an integrated network of 1,288 rental locations in North America, 11 in Europe, 28 in Australia, and 18 in New Zealand. The company operates in 49 states and every Canadian province. The company's approximately 20,400 employees serve construction and industrial customers, utilities, municipalities, homeowners and others. The company offers approximately 4,300 classes of equipment for rent with a total original cost of $15.79 billion. Founded in 1997, United Rentals is headquartered in Stamford, Connecticut.