UNITED RENTALS JOINS OCFS AS OFFICIAL TITLE SPONSOR OF BIG BLOCK MODIFIED DIVISION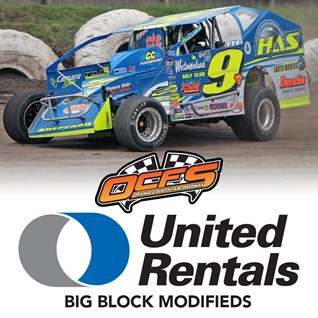 Orange Motorsports and Entertainment (OME) and The Orange County Fair Speedway (OCFS) of Middletown NY are proud to announce United Rentals, as the presenting sponsor for the headlining Big Block Modified Division, racing weekly at OCFS.  The "United Rentals Big Block Modified Division" starts their points season on Saturday, April 4th, opening night at OCFS.  To kick off the season, the United Rental Big Blocks will compete in a 50-Lap feature to close out the night's festivities.  Sportsman, Rookie Sportsman and Street Stock Classes are also on the schedule.
United Rentals, Inc. is the largest equipment rental company in the world with an integrated network of 1,186 rental locations in North America and 11 in Europe.  In North America, the company operates in 49 states and every Canadian province. Their approximately 18,500 employees serve construction and industrial customers, utilities, municipalities, homeowners and others.  United Rentals is a member of the Standard & Poor's 500 Index, the Barron's 400 Index and the Russell 3000 Index® and is headquartered in Stamford, Conn.
United Rentals has a history of supporting motorsports being a current proud sponsor of the Rahal Letterman Lanigan Race Team competing in the Indycar series.  Many of OCFS's earliest champions also competed in Indy racing, including Mario Andretti, "Wild Bill" Holland, Fred Frame and Lee Wallard who were all Indy500 winners and competitors at OCFS in its earlier days.
Management at the over 100 Year old speedway in Middletown, NY is excited to welcome United Rentals to the Big Block Modified Division, which also welcomes  standout competitors Matt Sheppard and Mike Mahaney to the lineup of drivers competing full time this year.
Additional information about United Rentals is available at unitedrentals.com.
For a full schedule, showing which nights you can catch the "United Rentals  Block Modifieds" in action, as well as all the latest news for fans and competitors, visit the OCFS Website at www.orangecountyfairspeedway.net. 
UPCOMING EVENTS: 
 March 27          "Shake it down Weekend" Open Practice (Free admission for fans!) 
April 4                Opening Night "Orange County Oval Kickoff 50-Laps"