Tomorrow Night A Champion Will Be Named At OCFS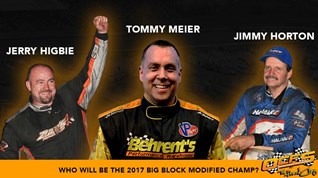 By – JORDAN SHEEHAN
Saturday September 2nd is OCFS' Champions Night. Although many drivers are out of the title picture, the fight for top 5 or even top 10 points is still on. The racing this year has been the closest its been in a long time and is expected to deliver an "on the edge of your seat" worthy final points night.
For the premier division of the speedway, Big Block Modifieds, The Sensational One Jimmy Horton comes into the event with a 52 point lead over The Waldwick Warrior Tommy Meier and Jerry Higbie. Only 4 points separate Meier and Higbie, and Horton, Meier, or Higbie are expected to walk away the crown after tomorrows action. However, the only way Horton couldn't win the title is if he didn't qualify for the feature. Its almost always a possibility for anyone in Modifieds, as OCFS has one of the highest car counts for Big Blocks in the North East. 4th and on back is tight points racing and is expected to make change after the final race. Currently Craig Mitchell is in 4th with 867 points and Mike Ruggiero sits 5 points behind with 862. 6th position is currently Matt Janiak with 860 points, just two away from Ruggiero. Chris Whitehead has 845 points and is 15 away from Janiak. Rich Eurich is only 2 points behind Whitehead with 843 points followed by Gary Edward Jr with 820 and Brendan Finley with 791 to round out your top 10.
358 Modifieds were left with an even more limited season this year after mother nature decided to not play nice in the early season scheduled races. However them rain outs may have taken races away, but the action remained the same. The Montgomery Missile Anthony Perrego leads the points hunt just 31 points over Jerry Higbie. Higbie who has a shot at winning both Modified titles has been on rails with the Finch owned #793. It seems as if with a full field of Small Blocks four drivers have a good shot at the title. Anthony Perrego (481), Jerry Higbie(450), Gary Edwards Jr.(447), and Tyler Boniface (440). Within the field, points battle for top 5 and 10 is tight as can be. Tomorrows racing will be sure to also switch up the order in Small Blocks as well. Chris Stevens is in 5th with 429 points, Allison Ricci is 6th with 423 points, Donnie Elliott is 7th with 416 points, Tom Hindley is 8th with 406 points, Rob Rowe is 9th with 406 points, and Jesse Leiby rounds out the top 10 with 394. A total of 75 points seperates the complete top 10.
Jesse Leiby, Greg Sleight, Joey Bruning, and Jimmy Johnson have been at the top of the Sportsman class all season long. Bruning was early season points leader until Greg Sleight took the lead and then Leiby won back to back feature events to take the top slot. However even with Jesse in the front only 8 points seperate him and Greg Sleight. Joey Bruning is third only 44 points behind and Jimmy Johnson fourth with 52 points seprating him and Leiby. With the Sportsman division weekly having the strongest car count, there is a strong possibility with a full field that not qualifying is an option. It seems as if only these 4 drivers have a shot at the top spot but Leo Fotopulous is 5th with 1058 points, 6th is Joe Conklin with 1045 points. 7th is Roger Henion Jr. with 1027 points, 8th is Howie Finch III with 1013 points, Daniel Morgiewicz Jr. with 1008 and rounding out the top 10 is Anthony Falanga with 993 points.