The Return Of Concerts To OCFS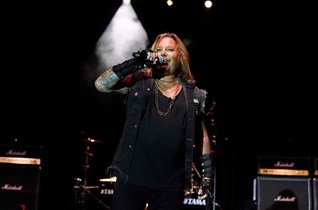 Amid many improvements to our 5/8 mile dirt oval and the surrounding amenities, 2018 marked the return of stadium concert shows at our historic, 99 year old facility.  Throughout the 80's and 90's OCFS was known as a place to see the time's greatest popular music acts.  1983 saw The Beach Boys become the first on our stage at "The House of Power."  Following that performance, OCFS would gain a reputation for hosting some of the 80's greatest hard rock musicians including: Aerosmith, Loverboy, Heart, Def Leppard, Judas Priest, Poison, Ozzy Osbourne, Bon Jovi, Metallica, Mötley Crüe, Alice Cooper, Bad Company, Extreme, Van Halen, Danzig and more.  Now classic acts like the late Tom Petty, Huey Lewis and the News, Celine Dion, Bryan Adams, Phish and many more have graced the stage at OCFS.  With such a rich history of live music, Orange Motorsports and Entertainment was eager to revive the sorely missed summer concert series in Middletown, NY for 2018.
Our 2018 county fair served as the backdrop for 3 nights of major concerts at OCFS.  With a goal of combining the excitement of new, up and coming rock music, with the nostalgia of legacy acts, Manchester Orchestra, XEB, Badflower, AJR, Big Data, Night Ranger and Vince Neil of Mötley Crüe were booked to perform.
Night 1 of 3 saw modern rockers Badflower open for Manchester Orchestra, an American indie rock band from Atlanta, Georgia, formed in 2004.  Manchester Orchestra played hit songs like "The Gold" from their new album A Black Mile to the Surface.  Fans of the group traveled from as far away as Canada came to see these indie rock darlings.  Closing out the first night was XEB, a band comprised of former members of 90's throwback classic Third Eye Blind who have recently been featured at Daryl's House, a Hudson Valley venue curated by Daryl Hall of Hall and Oats fame.
On our second night, Manhattan's AJR brought their unique sound to The House of Power.  The Met brothers; Adam,  Jack and Ryan, started their career as street performers in NYC.  Their music combines elements of their street performing roots and modern electronica.  Fans braved pouring rain to show their love for the Met brothers, and while it didn't stop people from coming out, it did create a minor technical issue that left the stage briefly without power.  Unphased, the brothers performed their hit song "Sober Up" acoustic, right up against the crowd control barrier.  Within minutes power was back on and AJR were able to continue with their set as planned.  AJR's opener, Big Data, were a surprise hit.  The group, led by producer, Alan Wilkis are best known for their single "Dangerous", featuring Joywave, which reached number one on the Billboard Alternative Songs chart in August 2014.  A major highlight of their performance was their unique cover of Hall and Oats' "Private Eyes."
Night 3 of concerts at OCFS saw the return of 2 classic 80's rock acts, Night Ranger and Vince Neil.  Night Ranger opened up with an energetic performance that transported fans back to 1984, when they were among the first acts to play our stadium stage.  Celebrating their 35th anniversary this year, they rocked just as hard as they did in '84 as they performed "Sister Christian" to an amped up crowd that sang along with every word.
Closing out the final night of concerts was Vince Neil of Mötley Crüe, who along with his band played all the Crüe hits like "Dr. Feel Good" "Kickstart my Heart" and more.  Accompanied by his band, stacked with talented musicians, Vince has very much still got it.  Longtime OCFS fans will likely remember Mötley Crüe's 1990 performance as part of the Dr. Feel Good World Tour.  Many in attendance had been there back in the day and were excited to see Vince and Night Ranger's long awaited return to The House of Power.
Not to be outdone by the big nationally touring acts, JaCoB the Band, a local up and coming group comprised of Jake (Ja), Conor (Co), and Brooke (B) served as the warm up act for our first 2 nights of shows.  The band of young musicians played an eclectic mix of covers and their own original music from their forthcoming debut album.  Their EP "Jake's Basement" is available now to stream on Spotify.