Tanner VanDoren on Talkin' Dirty Live 2/23 at 7PM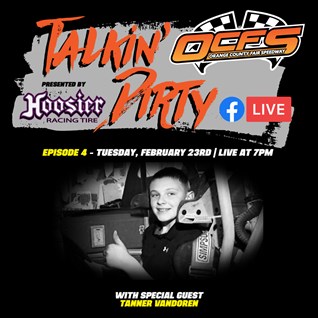 The young man who set an interesting new Eastern States Weekend record, Tanner VanDoren the youngest ever winner, will be joining the hosts of Talkin' Dirty Live for what's sure to be an awesome interview. Our regular co-host, Brett Hearn, has returned from racing in Florida and will be back to take fan's questions for Tanner and the crew. Tanner not only won the Eastern States Weekend 2020 Sportsman 50, he was also the technical points leader in the unfinished, unofficial, 2020 Sportsman points season.  Shout out to Hoosier Tire for their support of racing at OCFS and as this episodes sponsor!
Tune in Live on the OCFS Facebook Page at 7PM on Tuesday February 23rd to ask you questions live!