Talkin' Dirty Live! Episode 2 Drops Tues. 1/26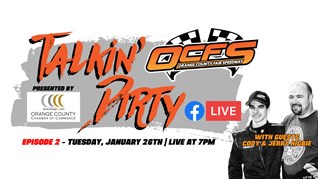 Talkin Dirty Live! Orange County Fair Speedway invites fans to join us for a new interactive experience on Tuesday nights. Tune in live on Facebook to the SECOND episode of our season, hitting at 7PM EST on 1/26. Fans will be able to submit questions live via Facebook to OCFS Director of Motorsports Brett Hearn and host Pat Reiser as well as guests Cody & Jerry Higbie.
Cody Higbie is a Sportsman Division driver at OCFS with a feature win in 2020. He is the son of Jerry Higbie, driver of the no.97 Big Block Modified and 358 Small Block Modified a multi-time champion at OCFS. Jerry is also known for his work as a car builder at HigFab Chassis, a local Orange County business and supplier of many OCFS competitors.
Episode 2 of Talkin' Dirty Live is presented by The Orange County Chamber of Commerce. Please remember to follow us on Facebook (ww.facebook.com/OCFSRacing) where the episode will air on Tuesday, January 26th at 7PM EST.