SPORTSMAN DRIVERS HAVE PRESEASON OPPORTUNITY TO SHAKE OUT THE RUST DURING THE 'HARD CLAY OPEN' AT ORANGE COUNTY FAIR SPEEDWAY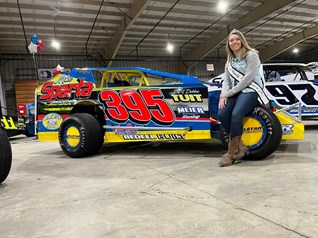 Baseball has spring training, a preseason series of workouts and games to prepare for their months-long 162-game schedule. This coming Saturday, April 2, Orange County Fair Speedway Arkel Motors Sportsman division drivers have a similar opportunity to test their cars in competition before the weekly racing point season begins the following week.
As part of the Short Tack Super Series (STSS) "Hard Clay Open" for the Halmar International Elite Series Modifieds, the Orange County Crate 602 Sportsman drivers and their cars will compete in a series of qualifying races leading up to a 25-lap, $1,000-to win non-point feature event.
The Sportsman competition is open to any team whose car meets Orange County's Sportsman rules, including required Hoosier tires. Teams should check the Orange County Fair Speedway website, www.orangecountyfairspeedway.net, for the complete Sportsman division rules and tech specifications.
For fans: Grandstand and Drive-In gates open at 4:00 pm. Reserved admission $40, General admission $35, Senior/Military discount $30, Party Deck $45 (minimum two).
For competitors: Pits open at 3:00 pm. Pit admission $45, OCFS member $40.
Racing begins at 6:30 pm.
UPCOMING:
March 26-27 – Rapid Tire Motorsports Show Orange County Fair Arena
April 1 – "Shake it Down" open practice – Grandstand Free Admission, Pits $25
April 2 – STSS Elite Series "Hard Clay Open" $25K to win 50-lap Modified feature plus Sportsman (Rain date April 3)
April 9 – Opening Night Weekly Racing $3,300 to win 33-lap Modified "Tommy Meier" feature plus Small-Block Modifieds, Sportsman, Rookie Sportsman