Spectator Races on May 27th - Sign Up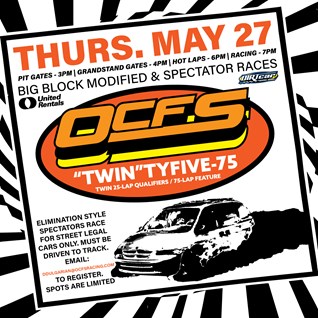 Do you want to take your car out onto track at the legendary Orange County Fair Speedway? We have your chance on Thurs. May 27th.
This isn't a "driving experience", these aint no parade laps. This really is your chance to race, head to head, at the legendary House of Power. May 27th's Big Block "Twin"tyfive-75 (Twin 25 Qualifiers, 75 Lap Feature) will be accompanied by the rookie sportsman division, but also the an elimination Style 1 on 1 spectator race.
The rules are simple, any street legal cars/trucks/SUVs, with street tires, that has been driven (legally) to the track can be entered. Cars will race from a stopped side by side position on the front stretch for one lap, winner stays on for the next challenger until only one remains. If enough drivers enter, 2 groups will compete, with the finalist from each going head to head for a cash prize.
The entry form can be downloaded from our "Rules and Forms" section here on the OCFS website. Please contact ddulgarian@ocfsracing.com with questions or entry forms.