SCOTT & KEN FERRIER TO JOIN BROTHER JOHN FERRIER AT OCFS FOR 2019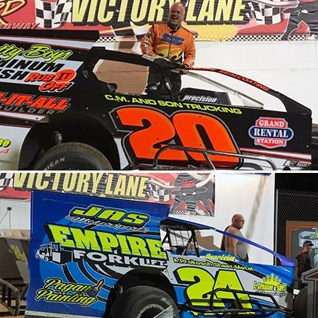 After announcing a significant bump to our purse structures, it's expected we'll see many new and returning faces on the track this year.  Speculation surrounding the return of Brett Hearn, OCFS's (and dirt racing's) winningest driver ever has taken center stage, however a number of other fierce competitors and fan favorites are planning their returns.
Scott Ferrier, brother to OCFS weekly regular and ARCA driver, John Ferrier, is one such competitor. With serious purses and points fund money on the line, John's team owner, Anthony Monaco, felt now was the time to send Scott out on "The Hard Clay."
Last year, "Prime Time" Scott Ferrier competed weekly at nearby Accord Speedway on Friday nights, picking up an early season Modified win on the night of April 20th.  Though OCFS is an entirely different beast from the 1/4 mile at Accord, Ferrier comes in with experience having raced for 13 seasons and starting 229 races.  With 8 career wins (his most recent coming in 2018 at Accord Speedway and Afton Motorsports Park), 49 top fives and 112 top tens, Scott Ferrier could be a competitor who will shake things up at OCFS in 2019.  Scott will be joining the ranks of the 358 Small Block class, and though not the main event, the Small Block class boasts healthy purses and produces some of the best weekly racing you'll ever see on a dirt track.
"The KF Flyer" Ken Ferrier, another Accord Speedway regular, will join his brothers in Middletown, but will be racing in the sportsman class.  With John in Big Block Modified, Scott in 358 Small Block and Ken in the Sportsman Class, there will be a Ferrier brother in every points series at the historic speedway in Middletown, NY.
The track has long been known for racing families, with brothers like Buzzie and Wayne Reutimann being among the tracks most beloved past competitors.  Looking forward to adding to that history, Scott expressed his excitement for the potential of a "Ferrier Brothers Sweep" with a brother winning in every class on one Saturday night.  That would certainly qualify as a historic moment in OCFS's 100 years of operation.