REVIEWING ORANGE COUNTY FAIR SPEEDWAY'S 72ND WEEKY RACING SEASON AND 60TH ANNUAL EASTERN STATES WEEKEND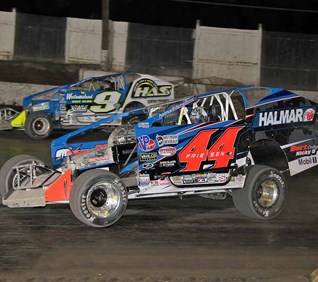 Following the on again-off again-on again shortened and restricted 2020 season, Orange County Fair Speedway kicked of its 72nd consecutive year of weekly stock car racing in April 2021 with a new format for the United Rental DIRTcar Big-Block Modifieds, weekly competition for the H.O. Penn Small-Block Modifieds, Arkel Motors Sportsman including the return of the introductory Precision Hydraulic & Oil Rookie Sportsman, and NAPA Northeast Parts Group Street Stocks.
On June 26, after seven weeks of Rookie Sportsman feature races, Dylan Madsen, a three time winner, topped the "graduating" class and he and his fellow graduates were "promoted" to the Sportsman ranks.
Weekly competition for the Small-Block Modifieds, Sportsman, and Street Stocks wrapped up on Saturday, August 28. Anthony Perrego, a three-time winner, captured the Small-Block Modified championship for the third consecutive year and fourth time overall. The Sportsman title went to Joe Bonetti on the strength of a pair of point wins and a season of solid finishes. Bonetti also won a post season non-point Sportsman race as well as a Small-Block Modified feature. On the basis of four victories, Mike Vigiletti cemented his fourth Street Stock title in the past eight years.
The Big-Block Modified championship was decided on Saturday, September 2 with an epic battle among four top-performing drivers. When the checkered flag waved, Anthony Perrego (one win) had out run Stewart Friesen (three wins), Matt Sheppard (five wins), and Billy Decker (points) for his second Orange County Big-Block Modified championship. Perrego became the fourth driver in Orange County history to win both Modified titles in the same year.
This set the stage for the season finale, the 60th Annual Eastern States Weekend and the headline T-Mobile Eastern States 200. The four-day racing extravaganza saw seven separate divisions of race cars competing in full qualifying and feature races. Joining Orange County's four weekly divisions were the Short Track Super Series (STSS) Modifieds, Rapid Tire USAC East Coast Sprint Cars, and the Bulldog Concrete Pro Stocks. A special addition to the weekend was the Will Cagle Champions Invitational, a 24-lap race for former Eastern States and Super DIRT Week winners. The overall base purse for the weekend topped $318,000 with an additional $23,000 in special awards.
Matt Sheppard topped all winners with victories in the STSS 50-lap feature ($5,000), the Will Cagle Champions Invitational ($5,000), and the T-Mobile Eastern States 200 ($40,000).  Stewart Friesen won the Small-Block Modified Hauser Brothers Plumbing & Mechanical Contractors 100 ($20,000), while Tanner VanDoren captured the Sportsman Fox Shocks 50 ($5,000) for the second consecutive year.  Bob Sleight Jr. was the Crackers Motorsports Street Stock victor ($1,000). The Rapid Tire USAC East Coast Sprints feature saw Billy VanInwegen grace Victory Lane ($2,000), with Josh Coonradt the winner of the Bulldog Concrete Pro Stock main ($2,000).
In addition to the record-breaking total posted purses, every division's feature race also included special awards of cash, gift cards, or merchandise prizes as well as lap leading money. In the Eastern States 200, 17 drivers shared $12,901.66, with Stewart Friesen ($6,480) and Matt Sheppard ($2,560.66) earning the most bonus cash. Fifteen Small-Block Modified drivers divided up $5,606 in special awards, with Friesen adding $3,475 bonus cash to his winnings. And in the Sportsman ranks, 17 drivers split $4,286, with top money ($1,545) earned by hard luck Brian Krummel, who dropped from the event while in the lead.
"When you look at the big picture, it was a great four days of short track racing," said Brett Hearn, Orange County's Director of Motorsports. "The weather cooperated, allowing us to maintain a very racy track.  We had a great turnout of competitors and good solid crowds, especially Saturday and Sunday. This was our first full Eastern States, and we've filled our notebook with what worked well, and also what we can improve upon so that next year's 61st Eastern States will be the best one yet" 
Fans and competitors are reminded to frequently check the Orange County Fair Speedway website (www.orangecountyfairspeedway.net) and social media all winter long for the latest news of the 2022 weekly racing season and the 61st Annual Eastern States Weekend.