Racing for Autism Awareness Bonus Debuts at Bristol SDS Race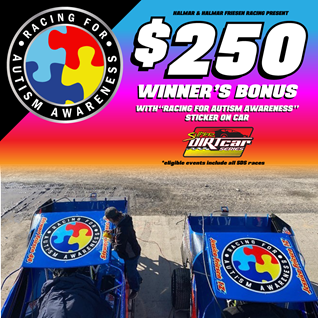 After a soft launch at Orange County Fair Speedway's season opener, "Racing for Autism Awareness" is expanding to the Super DIRT Series and Short Track Super Series to broaden its reach. The simple goal of "Racing for Autism Awareness" is to bring more awareness to Autism by issuing bonuses to Super DIRT Series and Short Track Super Series drivers who become ambassadors for the cause.  The first event this new campaign will be in effect for is DIRT's new SDS Series race at the legendary Bristol Motor Speedway, in which OCFS Director of Motorsports, Brett Hearn, is set to compete.  
How can Dirt Modified drivers help raise Autism awareness? It starts with the "Racing for Autism Awareness" sticker. The body panels of a race car are hot real estate for potential sponsor logos. Sponsors know the number of eyes on these cars as well as the loyalty that race fans show to supporting brands. If a driver is willing to carve off a piece of that real estate for a "Racing for Autism Awareness" sticker, they will be doing their part to help raise awareness. If a driver manages to park their properly stickered car in victory lane, bringing more eyes to the sticker, then they've earned themselves a $250 bonus!
To be eligible for this bonus, drivers simply need to affix the sticker to their car, to redeem the bonus however, drivers will need to submit Victory Lane photos, with the sticker clearly visible. Your VL photo with the sticker is an opportunity to have fun and show your support, drivers are encouraged to point the sticker out in the photo and have fun with it, as these photos will be shared on the Halmar Racing Facebook Page with thousands of fans across the country.  
To get your "Racing for Autism Awareness" sticker, drivers and teams at Bristol on April 22-24 can find Brett Hearn in the pits whose crew will distribute them. For drivers not attending Bristol or unable to meet with Hearn's crew, Stewart Friesen's crew will have stickers on hand at future SDS and STSS events. For redemption of the $250 bonus, drivers must submit their photos to jmeier@halmarinternational.com.