Perrego Rolls Into His Third Big Block Win, As Tyler Boniface Secures His First Of The Season In The Small Block Division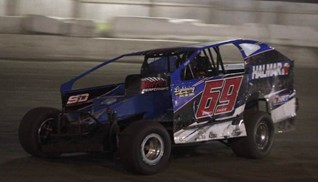 By FRANK CATIZONE
MIDDLETOWN, NY – Anthony Perrego wasn't a bit surprised when Danny Creeden left the outside door wide open for a pivotal 19th lap restart during last Saturday night's Modified feature at the Orange County Fair Speedway.
Perrego, after starting 11th for the 28-car starting field, was in hot pursuit of Creeden, who was enjoying a commanding lead, as the 30-lap race approached its midway point. Perrego closed in on Creeden on several occasions, but just didn't have enough momentum to make a challenging pass for the lead.
However, that all changed when Matt Janiak slowed on the backstretch to force a caution with 18 laps completed. Creeden, who was racing with an open small block power plant, chose the inside for the double-file restart and it worked right to Perrego's advantage.
Perrego, capitalizing on the opportunity, powered ahead of Creeden on the decisive restart and then went on to capture his third Modified victory at OCFS for the 2018 racing season. Perrego said Creeden actually made the right choice following the event.
"No, I'm not at all surprised that Danny decided to start on the bottom,'' said Perrego. "There really wasn't too much on the top to race on. But I was able to get some good bite on those restarts and it proved to be the difference.
"It took a little time, but we're starting to figure out this new racing surface and I feel we're pointed in the right direction. It was a little dusty and hard to see early on, but this is a good race track and it's only going to get better.''
Perrego, who has now posted eight wins this season, left the rest of the field in a cloud of dust after grabbing first place as he finished nearly five seconds ahead of Creeden when OCFS starter Jerry Enright waved his checkered flags.
Creeden, who was having his problems on the restarts, and McGannon swapped second place back-and-forth. But once Creeden got his small block powered racer rolling again, he was able to vault ahead of McGannon for good on the 24th circuit around the five-eighths mile, hard clay oval.
Danny Cronk grabbed the early lead from his starting pole position and remained there until Creeden passed him between the third and fourth turns on the 10th lap. Creeden remained in front until the decisive restart.
McGannon raced home with an impressive third-place performance with Rick Laubach, Brian Krummel, Jimmy Horton, Tommy Meier, Brendan Finley, Gary Edwards Jr. and Richie Eurich rounding out the top 10.
Tyler Boniface was awarded the first victory of his Small Block Modified career when apparent winner Creeden was disqualified for racing with an illegal carburetor following the 25-lap main event.
OCFS chief technical inspector George Johnson said Creeden was racing with a 750 carburetor. The 650 is the legal carburetor at OCFS.
"This really isn't the way I wanted to get my first win, but I'll take it,'' said Boniface. "A win is a win and we're happy to get this.''
Creeden was clearly the class of the field in the event as he raced well ahead of the rest of the pack after grabbing first place from Keith Still on the fourth lap. Boniface, meanwhile, put himself in position to get credit for the win when he passed Still for second place on the 11th circuit.
Perrego was credited with a third-place finish with Krummel, Still, Craig Mitchell, Shane Jablonka, Finley, John Ferrier and Tyler Treacy following.
Jimmy Johnson picked up his second victory of the season after waging a hard-fought battle with Milton Mann in the 20-lap main event.
Johnson, after starting eighth in the 24-car field, moved past Mike Bull for second place on the sixth lap and then set his sights on Mann. Johnson stalked Mann for several laps before finding an opening to the inside while racing off the fourth turn on the 15th lap.
Johnson then went on to grab his ninth career OCFS win as he finished ahead of Jared LaBagh, Greg Sleight, Mann and Dan Morgiewicz.
Veteran driver Wayne Taylor reached the OCFS winner's circle for the first time since the 2005 season as he grabbed his first career Street Stock victory here in the 10-lap main event.
"This is my first win here since I won a Pro Stock race in 2005,'' said Taylor. "I've won some races at other tracks, but it's the first in a long time here. This is a real good car I bought and we just might get a here for a few more times before the season is over.''
The race turned out to be a battle of two seasoned veterans as Taylor chased Emerson Cargain Sr. for the majority of the event. He finally slipped past Cargain on the eighth lap en route to the triumph.
Modified Feature Finish, 30 Laps: 1. Anthony Perrego, 2. Danny Creeden, 3. Bob McGannon, 4. Rick Laubach, 5. Brian Krummel, 6. Jimmy Horton, 7. Tommy Meier, 8. Brendan Finley, 9. Gary Edwards Jr., 10. Richie Eurich, 11. Danny Cronk, 12. Donnie Wilson, 13. Joey Falanga, 14. Jerry Higbie, 15. Brad Rothaupt, 16. Craig Mitchell, 17. Matt Hitchcock, 18. Jeff Heotzler Sr., 19. Chris Whitehead, 20. Kirk Horton, 21. John Lieto, 22. John Ferrier, 23. Billy VanInwegen, 24. Stan Frankenfield Jr., 25. Chris Shultz, 26. Matt Janiak, 27. C.G. Morey, 28. Corey Lowitt.
Small Block Modified Feature Finish, 25 Laps: 1. Tyler Boniface, 2. Gary Edwards Jr., 3. Anthony Perrego, 4. Brian Krummel, 5. Keith Still, 6. Craig Mitchell, 7. Shane Jablonka, 8. Brendan Finley, 9. John Ferrier, 10. Tyler Treacy, 11. Allison Ricci, 12. Tommy Meier, 13. Joey Bruning, 14. Joe Bonetti, 15. Michael Storms, 16. Zack Vavricka, 17. Chris Stevens, 18. Patrick Reiser, 19. Anthony Falanga, 20. Rich Eggers, 21. Roger Henion Jr., 22. Chris Grbac, 23. Frank Venezia, 24. Tom Hindley, 25. Frank Doty, 26. Scott Flammer. Disqualified: Danny Creeden (illegal carburetor).
Sportsman Feature Finish, 20 Laps: 1. Jimmy Johnson, 2. Jared LaBagh, 3. Greg Sleight, 4. Milton Mann, 5. Dan Morgiewicz, 6. Danny Carloiugh, 7. Patrick Murphy, 8. Tommy Vigh Jr., 9. Howie Finch III, 10. Matt Shultz, 11. Mel Schrufer, 12. Joe Bonetti, 13. Corey Cormier, 14. Joe Conklin, 15. Bob Jashembowski, 16. Bryan Jones, 17. Lem Atkins, 18. Dylan Smith, 19. Tyler Pirone, 20. Mike Bull, 21. Jake Granacker, 22. Ryan Neiger, 23. Ken Ryder, 24. Jake Bedell. Did Not Qualify: Pat Mann, Jason Dunn, Jeff Hulseapple, Jamie Doolan, Brett Weslowski, Jeff Jones, Austin Smith, George Begg.
Street Stock Feature Finish, 10 Laps: 1. Wayne Taylor, 2. Emerson Cargain Sr., 3. Jim Hajkowski, 4. Jim Maher, 5. Charlie Donald, 6. Ron Constable, 7. Ryan Modiano, 8. Rob Taylor.