ORANGE COUNTY FAIR SPEEDWAY'S "COLLEGE NIGHT" RACE WIN TO MODIFIED DRIVER TOMMY MEIER, SPORTSMAN MIKE SABIA AND STREET STOCK BOB SLEIGHT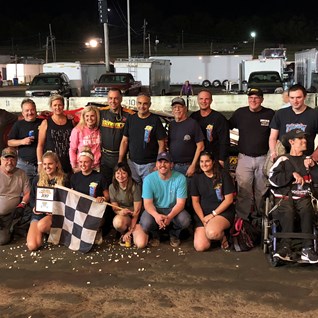 By FRANK CATIZONE
MIDDLETOWN, NY – Veteran Modified driver Tommy Meier knows how important track position is at the Orange County Fair Speedway.
Meier also knows how much he benefitted from the inversion wheel spin last Saturday night as he started on the pole and then went on to capture his first victory in exactly a year's time in the 30-lap Modified main event.
Meier, who also captured the four-lap, Modified dash-for-cash, picked up his last triumph here on June 16, 2018 and now has visited victory lane 23 times during his successful OCFS career. But, more importantly, the Waldwick, N.J., driver cut into Brett Hearn's lead in the chase for the coveted $40,000 prize for winning the 2019 track championship.
Hearn, who has been a model of consistency during the first seven regular-season races, paces the standings with 642 points with six events remaining. Drivers will also earn show points for the Battle of the Midway 100 DIRTCar Series program and the 100th Anniversary Weekend.
But Meier has come on of late and has collected 622 markers during the season to trail Hearn by just 20 points. Craig Mitchell stands in third place with 608, while Matt Janiak (592), Mike Gular (548), Chris Whitehead (546), Jerry Higbie (540), Brian Krummel (536), John Ferrier (528) and Jimmy Horton (516) round out the top 10.
Horton, who earned the second quickest fast time during the hot lap groups, spun an inversion of nine for the top 12 qualifiers to hand Meier the pole for the feature. Meier took it from there as he led the entire distance, and finished ahead of Anthony Perrego, Mitchell, Hearn, Higbie, Billy VanInwegen, Janiak, Whitehead, Dillon Steuer and Ferrier.
"We got a good starting position and took advantage of it,'' said Meier. "This place is all about track position and that spin of the wheel certainly helped.''
VanInwegen, who has missed the past few weeks, actually turned in the fastest lap during the hot lap groups as he toured the track in 21.466 seconds (104.817 seconds). But VanInwegen wasn't involved in the inversion and started 14th in the feature. Michael Storms and Joey Bruning also broke the top 12 in the group hot laps, but were relegated to start 15th and 16th as first-time competitors in 2019.
Perrego, who has been the fastest car most of the season, and Mitchell put on quite a battle for second place for most of the event. Perrego, who posted the quickest lap in the feature, finally moved past Mitchell on the 26th lap, but had no chance of catching Meier, who sailed well ahead of the 30-car field.
Danny Creeden and Ferrier each captured their heat race as nine drivers from each qualifying event advanced to the feature. There were 40 cars on hand for the night's racing.
In Sportsman action, Grant Hilfiger picked up his third victory of the racing campaign and Michael Sabia earned his first career OCFS win in a pair of 20-lap main events.
Hilfiger, who never won at OCFS before 2019, continued where he left off before the rains came on June 1 as he took the held-over main event to kick off Sportsman action for the night. Sabia finished in second place with Jake Bedell, Matt Shultz and Jesse Leiby rounding out the top five.
Sabia made it one position better in the Sportsman nightcap as he held off a late-charging Daryl Ford to grab his initial OCFS win. Reigning track champion Greg Sleight followed in third place with Shultz and Joe Bonetti rounding out the top five.
Sleight, who started outside pole for the 26-car field, charged to the early lead and remained there for the first five laps. But Sabia moved out in front on the sixth circuit and remained there the rest of the way.
Trevor Arnold won the eight-lap, non-qualifiers race ahead of John Farriser and Troy Arnold.
The five Sportsman heats were won by Shultz, Sleight, Bonetti, R.J. Smith and Sabia. Rob Wosyluk and Ken Ferrier captured the consolation races.
Bob Sleight Jr. was awarded his third victory of the season in the Street Stock 15-lap feature when Jay Pepin was disqualified during the post-race inspection for racing with an illegal carburetor.
Dan Maher followed in second place with Kevin Skelly, Charlie Donald and Jim Hajkowski rounding out the top five.
Modified Feature Finish, 30 Laps: 1. Tommy Meier, 2. Anthony Perrego, 3. Craig Mitchell, 4. Brett Hearn, 5. Jerry Higbie, 6. Billy VanInwegem, 7. Matt Janiak, 8. Chris Whitehead, 9. Dillon Steuer, 10. John Ferrier, 11. Tyler Boniface, 12. Gary Edwards Jr., 13. Matt Hitchcock, 14. Danny Creeden, 15. Sam Martz Sr., 16. Bob McGannon, 17. Danny Cronk, 18. Mike Gular, 19. Brendan Finley, 20. John Lieto, 21. Tim Hindley, 22. Jimmy Horton, 23. Donnie Wilson, 24. Rich Eurich, 25. Patrick Reiser, 26. Michael Storms, 27. Joey Bruning, 28. Brian Krummel, 29. Kirk Horton, 30. Chris Shultz. Did Not Qualify: C.G. Morey, Steve Dodd, Dominic Roselli, Tom Hindley, Kurt Hundeland, Josh Delea, Tyler Jashembowski, Ray Jashembowski, Scott Ferrier, Corey Lowitt.
Sportsman Feature Finish, 20 Laps: 1. Michael Sabia, 2. Daryl Ford, 3. Greg Sleight, 4. Matt Shultz, 5. Joe Bonetti, 6. Grant Hilfiger, 7. Jesse Leiby, 8. R.J. Smith, 9. Christian Rumsey, 10. Pat Murphy, 11. Jared LaBagh, 12. Dan Morgiewicz, 13. Bobby Flood, 14. Jake Bedell, 15. Jeff Higham, 16. Ken Ryder, 17. Jimmy Leiby, 18. Clinton Mills, 19. Mel Schrufer, 20. Joe Conklin, 21. Willis Mann, 22. Rob Wosyluk, 23. Billy Eggers Jr., 24. Mike Bull, 25. Ken Ferrier, 26. Sam Martz Jr.
Sportsman Feature (Held over from June 1) Finish, 20 Laps: 1. Grant Hilfiger, 2. Michael Sabia, 3. Jake Bedell, 4. Matt Shultz, 5. Jesse Leiby, 6. Sam Martz Jr., 7. Joe Conklin, 8. Greg Sleight, 9. Pat Murphy, 10. Ken Ferrier, 11. Mel Schrufer, 12. Dan Morgiewicz, 13. Aaron Doolittle, 14. Ken Ryder, 15. Ryan Neiger, 16. Jeff Higham, 17. Christian Rumsey, 18. Charlie Loiodice, 19. Jared LaBagh, 20. Billy Eggers Jr., 21. Joe Bonetti, 22. Jared Miller, 23. Bobby Flood, 24. Jimmy Leiby, 25. Allison Ricci, 26. Kevin Ward.
Sportsman Non-Qualifiers Race Finish, 8 Laps: 1. Trevor Arnold, 2. John Farriser, 3. Troy Arnold, 4. Dylan Smith, 5. Ryan Neiger, 6. Jamie Doolan, 7. Mike Orlando, 8. Aaron Doolittle, 9. Russell Crotty, 10. Anthony Sisco, 11. Shawn Johannessen, 12. Pat Mann, 13. Rich Eggers, 14. A.J. Smith. Did Not Start: Don Smith, Austin Smith, Bob Hallabeck, Jared Miller.
Street Stock Feature Finish, 15 Laps: 1. Bob Sleight Jr., 2. Dan Maher, 3. Kevin Skelly, 4. Charlie Donald, 5. Jim Hajkowski, 6. Ray Tarantino, 7. Joe Scheffold, 8. Rob Taylor, 9. Emerson Cargain Sr., 10. Wayne Taylor, 11. Jim Maher, 12. Emerson Cargain Jr., 13. Ryan Modiano, 14. Bob Miller, 15. Mike Vigiletti, 16. Matt Caromano, 17. Edgar Hedges, 18. Ron Constable, 19. Scott Gumaer. Disqualified: Jay Pepin (illegal carburetor).