ORANGE COUNTY FAIR SPEEDWAY WELCOMES BACK THE RACING STARS OF YESTERYEAR ON "NOSTALGIA NIGHT" SATURDAY, JUNE 12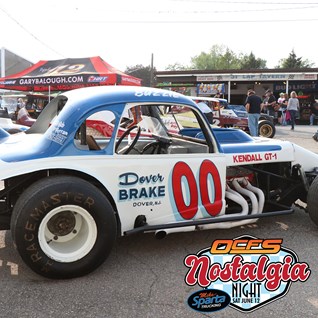 Annually, it's among the most anticipated evenings of the racing season. Set for Saturday, June 12, Orange County Fair Speedway celebrates its racing heroes of yesteryear on "Nostalgia Night." Several dozen former drivers, team owners, and officials are expected to be on hand ready to greet the fans, pose for pictures, and sign autographs. In addition, keeping with the theme of remembrance, there'll be a display of vintage race cars, several of which turned laps on Orange County's historic five-eighths-mile clay track.
Drivers scheduled to attend the autograph session include Gary Balough, Brett Hearn, Tighe Scott, Kenny Brightbill, Jimmy Horton, Chuck McKee, Larry Brolsma, Jerry Higbie, Del George, Bob Rossell, Sammy Rogers Jr, Frankie Jashembowski, BC Wood, Carl Reynolds, Jeff Hetozler, Bill Wilson, Rob Green, Ron Goodrich, Johnny Strupp, Gary Labagh, Tommy Meier, Hank Goranson, Joe Romer, Bob Schmidt plus many more. Special, limited event shirts will also be available. 
The night's track action will headline the United Rentals DIRTcar Big-Block Modifieds in their fourth outing of the season. They'll compete in qualifying races capped off with a 30-lap feature race. All the Big-Block Modified drivers will be vying for victory, which will automatically include them in the eight drivers who will battle for the track championship and $25,000. Joining the Big-Block Modifieds will be the Arkel Motors Sportsman division drivers, whose qualifying races determine the starting lineup for their 20-lap feature race.
This exciting evening of racing and celebration is presented by Mike Sparta Trucking and Dave's Racing Collectibles along with Pocono Raceway.
Both the Orange County Fair Speedway stands and unique Drive-In are fully open. General admission either for the stands or the Drive-In is $20 adult, $16 seniors, and free for children 12 and under. As a convenience for fans, guaranteed Drive-In parking spaces in Rows D, E, and F of the Drive-In may be reserved for $15. Unsold spaces in these rows will be available at the gate on race day. Fans may purchase tickets by calling the Speedway Office at 845-342-2573. Spectator gates will open at 4:00 pm. Prepaid 2020 Season Tickets will be honored. Hot Laps at 6:00 pm, racing at 7:00 pm. Intermission will be extended to accommodate the giant autograph session.
Fans unable to attend in person, may order live multi-camera streaming of the races on the OCFS website www.orangecountyfairspeedway.net.
For competitors: Transponders and one-way radios are mandatory.  Fire suppression equipment is required for all open wheel divisions (Big-Block Modified, Small-Block Modified, Sportsman, and Rookie Sportsman) and strongly recommended for Street Stocks. Street Stocks must have fire extinguisher. Pit passes are $25 for members, $35 non-members. Pit gate opens at 3:00pm.
Media member must request credentials prior to June 12. No requests will be honored on race day. Contact Doug Dulgarian at ddulgarian@OCFSRacing.com with your request.
Both competitors and fans are urged to check the OCFS website www.orangecountyfairspeedway.net for all the latest news and information. Call 845-342-2573 for tickets and Drive-In reservations.
UPCOMING
Thursday, June 17 – Big-Block Modifieds "Revenge 50"
Saturday, June 19 – Rapid Tire's Spring Smashtacular