Orange County Fair Speedway 2017 Points Championship Decided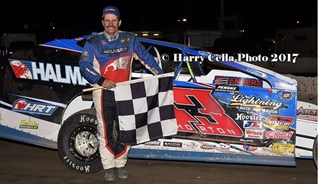 By FRANK CATIZONE
MIDDLETOWN, NY – The remnants of Hurricane Harvey put a damper on championship night at the Orange County Fair Speedway last Saturday as a wet racing surface and a poor weather forecast forced track officials to cancel the final racing program of the regular season.
The cancellation also brought an end to the points season and enabled Jimmy Horton to realize a goal he set for himself prior to the 2017 campaign by winning his third OCFS Modified track championship. Horton, who returned here last season behind the wheel of the Halmar sponsored No. 43, utilized his consistency throughout the year to collect 957 points and dethroned reigning titlist Tommy Meier.
Horton, who placed among the top eight in nine of the 11 races, picked up his only victory during the season-opener on April 29. But he took control of first place in the standings from that point on and never lost it despite one hiccup on August 12.
Horton's 51-point cushion over Meier dropped to eight points when he only managed a 22nd place finish that evening. But he rebounded with a third-place effort two weeks later to pretty much lock up the crown over Meier, who ran into his own problems on August 26.
Horton, whose other titles came in 1976 and '96, said he was working on a 20-year plan here as his other championships were spaced out here by 20 years. He enjoyed a lead in the standings most of the 2016 campaign before faltering late in the season.
"My track titles here came in 20-year intervals,'' said Horton. "It was a little disappointing last season because I came so close to achieving that once again. That's why I set my goal to win the championship this year.''
Meier, who finished with 905 points, and Jerry Higbie (901) finished second and third in the standinmgs behind Horton. Meier and Higbie both have three track championships themselves at OCFS.
Both Small Block Modified champion Anthony Perrego and Sportsman titlist Jesse Leiby each collected their first crowns in 2017. Mike Vigiletti defended his championship in the Street Stock division.
Perrego picked up one victory and placed among the top four in the five races during the season to collect 481 points. Higbie followed in second place with 450 markers.
Leiby, who placed among the top 10 in 10 of 13 races, rallied to catch Greg Sleight late in the season and rode three victories to capture his title with 1.144 points. Sleight was just eight markers off the pace with 1,136.
Vigiletti, who picked up four victories, amassed 1.153 points to nose out Tommy Pickles (1.133) for the Street Stock championship. Vigiletti finished among the top five in 11 of the 12 races this season.
OCFS returns to action on Saturday with the Modifieds, Small Block Modifieds, Sportsman and Street Stock divisions all in action. Racing is highlighted by the Modifieds Eastern States qualifier and gets underway at 6:30 p.m.