Opening Night Program to Carry Over to Saturday April 16th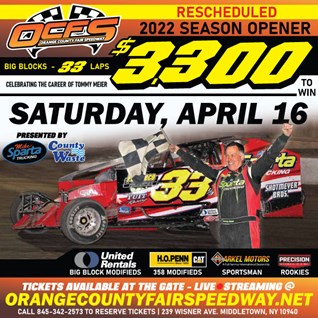 Saturday, April 16th's racing program will now follow April 9th's rained out events. The United Rentals DIRTcar Modifieds headline the four division racing program with a 33-lap, $3,300-to win "Tommy Meier" feature race, joined by the H.O. Penn 358 Modifieds, Arkel Motors Sportsman and Precision Hydraulic Rookies.
The originally scheduled Northeast Parts Group Street Stocks will return to action on Saturday, April 30th with a double feature.
The entire night of racing on 4/16 is co-sponsored by Mike Sparta Trucking and County Waste.