Only 3 Races Left For Drivers To Qualify For the $30,000 OCFS Championship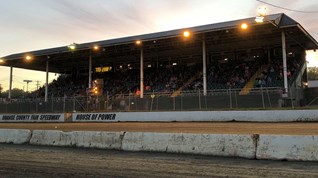 There are 3 races left before the field is cut to 12 as the quest for the $30,000 prize that awaits the winner of the United Rentals DIRTcar Big Block Modified championship begins.
Races on 6/18, 6/25 and 7/2 will determine which drivers are eligible for the top prize.
The race on June 18th will be the first race on the resurfaced track. More than 250 truckloads of new clay has been added which should help alleviate the surface problems that have affected the racing this year.
The point fund for positions 2 through 5 is also quite hefty as well. Second place pays $15,000, 3rd $10,000, 4th $9,000 and 5th $8,000. This year's format is slightly different than in 2021. Following the July 2nd race, positions 1 through 5 are determined via point standings.  Positions 7-12 will go to the winners of the previous Modified feature races. If there are more than seven feature race winners, the selection will be based on those drivers' accumulated points. If there are fewer than seven winners, point standings will determine the balance of the 12 positions. Once the top 12 is determined, they will have their points reset, starting from 2025 for first, sliding down to 2000 for 12th. A look at the current point standings finds that none in the top 5 has a win, but they are currently in qualifying position. Max McLaughlin is the current leader followed by Danny Creeden in 2nd, Tyler Boniface in 3rd, Mike Gular in 4th and Matt Janiak 5th. There have been six different feature winners so far in the point races. In order of their point standings, they are Anthony Perrego, Matt Sheppard, Dillon Steuer, Chris Shultz, Mat Williamson and Larry Wight. Currently, the last qualifier would be based on points and that at the moment is Billy VanInwegen. He is closely trailed by Tanner VanDoren, Jimmy Horton and Allison Ricci. But if one more new winner emerges, that would force one of those just mentioned to grab a win. There is currently one more spot open for a race winner. If there are two new winners in the next three weeks, that would knock the lowest winner in the points out of the top 12. That driver is currently Wight. With Wight not an OCFS regular, it is quite likely he isn't going to be racing for the championship. If there are three new winners the next three races, Williamson could be knocked out as well as he's currently 24th in points. Williamson, like Wight, is not an OCFS regular, so it's unclear if he has an OCFS Championship in his plans. It's a lot of money up for grabs come championship time. Stay tuned to how it all develops through the course of July and August. The new surface has been put down and there is a practice session scheduled for Tuesday, June 14th from 6 to 9pm. This is tentative and depends on the progress of the new surface. Pit admission will be $25. There is no racing this Saturday, June 11 as the speedway will be holding their Spring Smashtacular event. Racing returns to the House of Power on June 18th. The Modifieds will have their usual 30 lap feature event. The H.O. Penn 358 Small Block Modifieds will be completing their heats from May 14th followed by the 45 lap Whitey Memmelaar Memorial Race. The Arkel Motors Sportsman will have the usual show. And the North East Parts Group will also be completing their races from May 14th.