OCFS & The Town of Wallkill Present The Eastern States Parade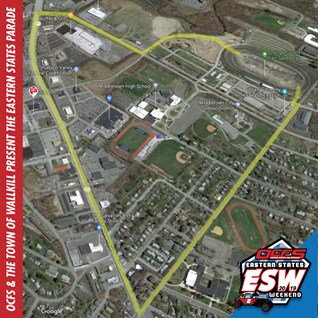 In collaboration with the Town of Wallkill, The Orange County Fair Speedway is bringing back the Eastern States Weekend Parade! 40 Dirt Modified race cars and police escorts will take to the streets of The Town of Wallkill for a salute to the fans and community.
Starting at 11am on Friday, October 25th, the parade will take off from the Wisner Ave. Speedway entrance, and continue on Wisner Ave. til it meets Route 211.  The 40 800+ HP Big Block Modifieds will then go 2 wide down Route 211 east until turning back up Carpenter Ave. and reentering the Speedway grounds.  Fans and members of the Town of Wallkill community are encouraged to come out and watch from the various shopping plaza parking lots along the parade route on 211, Carpenter Ave or Wisner Ave..  Kids will love this opportunity to see real live race cars on the street just before they take to the Speedway for one of the biggest races of the year. 
This is a free event for all fans and local residents, so make sure to come out and catch a glimpse of these precision tuned, dirt racing machines whether or not you are attending the 58th Annual Eastern States Weekend.  After the cars return to the speedway, get your ticket and join us for day one of ESW with qualifiying events for Sunday October 27th's Big Block Modified 200 portion of the weekend, and the Sportsman division's big 50-lap year end race.  After the conclusion of racing, fans can enjoy a Halloween themed party at OCFS's 31st Lap Tavern.