OCFS Kids Club is Back in 2021 Starting May 15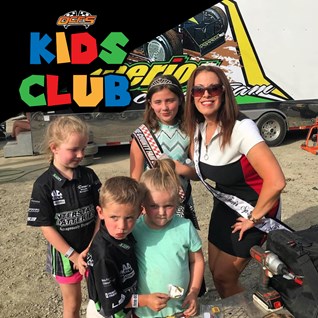 Starting on May15th's Escape Powersports Plus Night, Kids Club is returning to OCFS!
Beginning with the interrupted 2020 season and continuing into 2021, ALL KIDS, AGED 12 AND UNDER GET FREE GENERAL ADMISSION IN THE GRANDSTANDS OR DRIVE-IN AT OCFS!
OCFS management however would like to go beyond the free kids ticket and offer our young fans an even more exciting experience on race nights by bringing back the OCFS Kids Club!
Traditionally, Kids Club at OCFS featured a bus that would pick up kids and take them into the pits to meet drivers who would come aboard. The mission of the Club will remain the same and is being reinvented with the help of Ms. OCFS 2018, Christina Contento.
Christina is a passionate OCFS and motorsports supporter and has been dedicated to making the OCFS experience more exciting for kids! At May 15th's event, young race fans can find Christina at the Kids Club sign-up area (there will be signs on-site) to get involved in future activities.