NYS Gov. Orders Drive-In Sections Closed at OCFS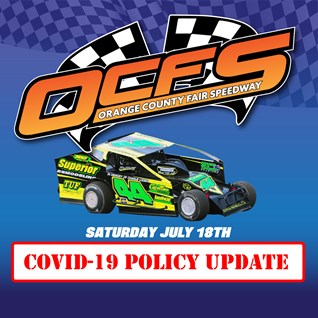 Orange Motorsports and Entertainment and the management team at OCFS have been informed by NYS State Gov. Cuomo's office that our Drive-In viewing sections must be closed to spectators at OCFS, effective today, 7/18/2020. Our apologies to fans who had plans to attend tonight, Saturday July 18th's event. Despite the closure to fans, racing will continue as planned with the events being streamed online at the OCFS website for $20, featuring all divisions: United Rentals Big Block Mods, H.O. Penn Small Blocks, Sportsman and Street Stocks.
To be clear this mandate comes from a state level. OCFS has operated with the full support of our local county and town officials, with whom we have worked in close cooperation with through this complicated time to take all necessary precautions.  We ask our fans to please recognize them as allies to the speedway in this difficult time, as they have gone beyond the call of their duty to help us open up in the capacity that we have.
Of course with the ever changing nature of the COVID-19 crisis, it is hard to predict what the future holds, but it is our expectation that with next Saturday's event, we can return to allowing fans in the Drive-In section once more.  We will update our fans as soon as a decision has been made, and again we apologize for this last minute announcement.
The decision to Livestream racing tonight despite the Drive-In shutdown is not one without risk, and we would greatly appreciate any and all fans who support us by streaming in this difficult time.  A lot has been invested in our streaming productions, which have very quickly grown in quality and viewership.  Though we understand it will never be quite the same as attending a race in person, we really think our fans will enjoy the show that includes all the best camera angles of the track, drone shots, sleek and informative on-screen graphics and leader board, Tim Pitts commentary and interviews with the drivers!
We would also quickly like to address fans who purchased tickets to 7/11's racing that was rained out, your tickets will remain active as rain checks for as long as it takes for us to get back to racing, or you may contact the speedway office for a refund.