More Than 200 Have Entered - So Few Will Start - The Drama of Qualifying at Day 1 ESW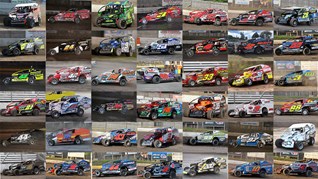 WHY YOU NEED TO BE STREAMING DAY 1 OF ESW 2020
1. Over 200 cars have entered between all divisions
2. Over 50 Big Blocks have registered
3. Over 80 Sportsman are expected
4. The rosters are stacked with potential winners
5. Fewer than 40 will start in their Championship features
6. THERE ARE NO GUARANTEED STARTERS THIS YEAR!
7. QUALIFYING WILL BE INTENSE!
8. The ALL NEW TOP 12 STARTERS RACE, featuring the top 12 fastest big blocks in qualifying in a 20 lap feature for starting positions
9. It's only $10 when included in a 2-Day package deal for $40 ($30 for just Sat.) 
10. TO SUPPORT YOUR FAVORITE TEAM!
Stream it Live on Friday 10.23 starting at 2:00PM EST. Right here on the OCFS website.  The "ESW LIVESTREAM" page has instructions on how to order. This year's production features veteran dirt track racing camera operators and commentators in addition to our own Tim Pitts. Dan Martin, Joel Murns, Paul Szmal, Doug Elkins, Brett Hearn, Gary Balough and more are expected to make appearances throughout the production, which will feature multiple cameras, onscreen graphics, and (sorry) commercials from our sponsors at Hauser Brothers, United Rentals, HO Penn, Tru Hilton, Rock Fantasy, Behrent's and Coors.  You really won't want to miss the drama of qualifying at Eastern States Weekend 2020, livestreaming for just $10!
CHECK OUT THE UP-TO-DATE DRIVER ROSTER
STREAM THE WHOLE ESW 2020 WEEKEND