Meet OCFS's Final Eight - The Only Drivers Eligible for the $25K Championship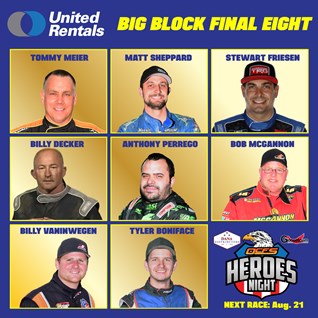 Who are OCFS's Final Eight Big Block Drivers and how did they get there? The Final Eight are the only remaining drivers eligible for the $25K to win OCFS championship. Why? Because 2021's United Rentals DIRTcar Big Block Points series went a little differently in 2021. Modified points were distributed as listed in OCFS's normal point system beginning with the opening event on April 3rd. Any drivers with wins, or those in the top 8 in points as of the July 10th event became "The Final Eight".  Following the July 10th event, the "Final 8" had their points reset (1st-2015, 2nd-2012, 3rd-2010, 4th-2008, 5th-2006, 6th-2004, 7th-2002, 8th-2000) and as the first of the Final Eight drivers to win after the cut-off, Stewart Friesen has secured a place in the "Final Four".

 

Tommy Meier was the first OCFS driver to secure his place in the Final Eight with an opening night win where he dominated a field that included all 7 of his Final Eight rivals. He finished ahead of only Billy VanInwegen however in 8/12's Centennial 102, meaning he's got some work to do to make the Final Four.


 

Matt Sheppard has dominated the competition at OCFS in 2021, the winningest of the Final Eight drivers, Matt has even collected bonus money for back to back wins. Before becoming an OCFS regular, Sheppard struggled to pick up a feature win at OCFS despite already being dominant on the circuit and has yet still to secure that coveted ESW 200 win. 


 

Stewart Friesen is the first United Rentals Big Block Final Eight driver to lock into the Final Four with his Centennial 102 win. Though he gets less track time at OCFS than his 7 other rivals, Friesen makes up for it by being the baddest dude on dirt right now. A regular racing Ironman, his schedule includes NASCAR Camping World Trucks, Late Models and Dirt Modifieds in 2021. If he wasn't already, Friesen just became the driver to beat for the OCFS championship with his Centennial Night win.


 

Billy Decker, though without a win, has had a strong season at OCFS, leading the points most of season. It was those points (coupled with Sheppard's multiple wins stealing lock in spots) that guaranteed Decker a spot in the Final Eight. Much like his peers who locked in on points this round, Decker is absolutely looking to make it into the Final Four the easy way, with a win on Aug. 21's Heroes Night.


 

Anthony Perrego, OCFS's hometown winning machine has struggled to grab a feature win in 2021, but his speed and consistency has taken him to the Final Eight. With a proven track record, this former champ can really increase his odds of taking home the $25k if he could secure a win on Aug. 21's United Rentals Big Block Heroes Night presented by Dana Distributors and Goosetown Communications and lock into the Final Four drivers.


 

Longtime OCFS competitor "Big Brother" Bob McGannon counts himself among the lucky Final Eight drivers to lock in on points alone. He rode the razor's edge for much of the season. Now, with a more or less even playing field (Friesen is locked in by merit of his Centennial 102 win) there are only 7 drivers standing between him and the $25k champions prize. Victory is close for Bob, but also, for all 7 of his competitors.


 

Billy VanInwegen knows Victory Lane at OCFS, but he was not able to lock in the Final Eight with a 2021 win. He did however run consistently and managed to squeeze his way in on points. When the field of potential champs gets halved on Aug. 28's "Big Block Final Four" night, Billy's best shot at making it, is a win between now and then. He'll have two opportunities starting Saturday Aug. 21.


 

Tyler Boniface has earned himself a reputation at OCFS in recent years as the driver who dares to go there. His nickname "Highside Hustler" comes from his ability to work the track's high-side in a way that many drivers find unattainable. A multi time modified winner, and a standout in 2021's co-headlining 358 modified campaign so far, TB certainly has the juice to make it to the Final Four and go all the way.