Marky Traverse Street Stock Memorial Rains out with 4 Laps to Go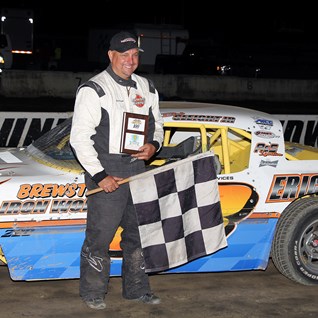 By FRANK CATIZONE
MIDDLETOWN – The Street Stock drivers took center stage in more ways than one last Saturday night at the Orange County Fair Speedway as the track presented its annual Marky Traverse Memorial feature event and also lauded its full fender competitors of yesteryear with their first-ever nostalgia night.
Bob Sleight Jr. highlighted the evening for the division as he went home with a first-place prize that ballooned to $3,500 by winning the memorial race, which was checkered after just 11 of the 15 scheduled laps because of a downpour.
A line of thunderstorms drenched the racing surface and forced OCFS officials to pull the plug on any further racing for the night. A Modified consolation race, two Modified features and a Sportsman main event were all postponed until another date.
Both the Modified consolation and a 30-lap feature will be made up on Aug. 10, and will kick off a full four-division program as the Small Block Modifieds, Sportsman and Street Stocks will also be in action. The Modifieds will have a pair of 30-lappers on the schedule as well as qualifying races and timed hot laps.
Sleight, after starting third for the 21-race race, vaulted into first place past Jay Pepin and Dan Maher at the start and remained in front until Charlie Donald slowed racing with a first-turn mishap with 11 laps completed.
That would prove to be the end of racing for the night as the rain began falling and caused the racing surface to quickly slick up. The street stock field was sent to pit road to wait out the storm, but the precipitation suddenly became a downpour.
Sleight was then credited with his fourth victory of the season as he finished ahead of Maher, Kevin Skelly, Jim Hajkowski and Pepin.
A field of 36 Modifieds were on hand for the scheduled Twin 30-lap program, including Billy Pauch Sr., who was making his first OCFS appearance in many decades. Both Pauch and Billy Dunn were driving for the Graham Racing Team and are expected back on Aug. 10.
Pauch and Dunn both finished among the top 12 in the group timed hot laps to qualify for the 30-car starting field. Dunn won the fourth timed group with a clocking on 22.668 seconds (99.259 mile per hour) around the five-eighths mile, hard clay oval, while Pauch (:23.219) finished second behind Jimmy Horton in his group.
Defending track champion Anthony Perrego set fast time with a clocking of 22.499 seconds (100.004 mph) during the hot lap sessions. He was the only driver to break 100 mile per hour during the evening.
The other group winners were Craig Mitchell, Bob McGannon and Jerry Higbie. Brett Hearn and Tyler Boniface captured the two heat events.
There were 46 Sportsman drivers signed into the pits with the four qualifying heats won by Greg Sleight, Joe Bonetti, Bobby Flood and Dan Morgiewicz. Jordan Lawrence and Corey Cormier won the consolation races.
The Street Stock heats were won by Pepin, Maher and Bob Sleight Jr.
Street Stock Feature Finish, 11 Laps: 1. Bob Sleight Jr., 2. Dan Maher, 3. Kevin Skelly, 4. Jim Hajkowski, 5. Jay Pepin, 6. Mike Vigiletti, 7. Jim Maher, 8. Rob Taylor, 9. Emerson Cargain Jr., 10. Joe Scheffold, 11. Walt Henry, 12. Ron Constable, 13. Chickie Bruntfield, 14. Ray Tarantino, 15. Matt Camarano, 16. Edger Hedges, 17. Ryan Modiano, 18. Wayne Taylor, 19. Paul Harding, 20. Charlie Donald, 21. Andrew Waring. Did Not Start: Paul Maiolo, Emerson Cargain Sr. Disqualified: Jeff Hager.