"Le Mans" Style Meet & Greet at May 15 Escape Powersports Plus Night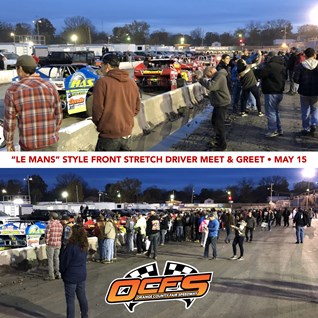 Saturday, May 15th's Escape Powersports Plus Night, with H.O. Penn 358 Modifieds, Arkel Motors Sportsman and Northeast Parts Group Street Stocks will feature a "Le Mans" style meet and greet on the OCFS's front stretch in front of the grandstands. Grandstand attendees will be invited down before Hot Laps for an up to approx. half hour session where they can meet the drivers, see the cars, and have an opportunity to take photos.
The meet and greet will be a great opportunity for families to get up close and personal with the cars and drivers, which will be especially exciting for the kids!
MAY 15th RACE EVENT SCHEDULE
3:00 Pit Gate opens
4:00 Grandstand and Drive In Gates open
5:30 Mandatory Drivers Meeting at Scales
5:50 ALL DIVISIONS / Cars to Front Stretch
6:00 – 6:20 Le Mans Style Meet & Greet with Fans (Bring Sharpie)
6:25 All Divisions Move to Hot Pit Lane for Hot Laps
6:35 – 6:55 Hot Laps; Sportsman, Street Stocks, 358's
7:00 PreRace Ceremonies /National Anthem
7:15 Sportsman Heats , 8 Laps each
Small Block Modified Heats , 8 Laps each
Street Stocks Hot Laps (Round 2)
Sportsman Last Chance Qualifier(s) – 8 Laps
Small Block Modified Last Chance Qualifier – 8 Laps
INTERMISSION
Sportsman Feature Event – 20 Laps
Street Stock Feature Event – 15 Laps
Small Block Modified Feature Event – 30 Laps
-VICTORY LANE PHOTOS ALL DIVISIONS-