KW Speed Moonshine! Coming to Blackberry Smoke June 27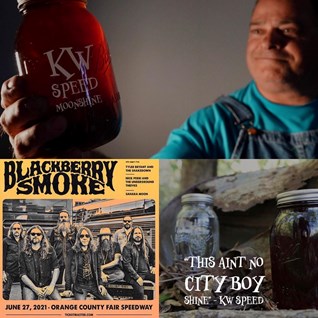 Legendary flavor from a legendary character.
KW Speed was the first to bring shine flavors to life under the moonlit sky of the Appalachian Region. Long before the new wave of "city boy moonshine" companies started popping up catering to tourists and outsiders KW was on the move and running his shine to those who wanted to the best authentic flavor you can get.
It all started with KW's Rootbeer Shine, the legend grew from there.
KW Speed's next (and biggest) shine run is coming your way soon:
KW Speed has changed production locations many times after nosey mountain folk have come across his stills.

KW was on the move once again and found his best location yet. KW is busy setting up new copper stills and will begin production soon!
In the mean time GET TICKETS FOR BLACKBERRY SMOKE ON JUNE 27 and be among the first to sample KW Speed Moonshine