Kids Club at Eastern States 2021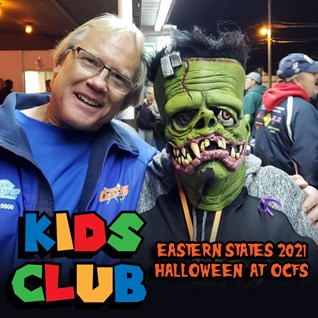 We've got two days worth of awesome Kids Club activities planned for Eastern States Weekend 2021!
First, on Saturday we celebrate Halloween starting at 11am with Kids Club members, accompanied by a legal guardian, being invited into the pits for an OCFS Trunk or Treat with the race teams!
Coloring and costume contest with prizes for the most creative and scariest costume with age divisions of:
■ Under 5 years old
■ 6-9 years old
■ 10-12 years old
Then on Sunday, just like the adult race fans, kids will celebrate New Year's Eve with a countdown and the breaking of pinatas at 1pm! Also going down at Victory RC speedway starting at noon is a Power Wheels/Big Wheel Race open to all kids! Kids will also receive checkered flags to get autographed during driver autograph sessions while supplies last!

Incentives are limited and include:
❖ OCFS Kids Club T-Shirts
❖ OCFS Kids Club Water Bottles
❖ OCFS Kids Club Trick or Treat Bags
❖ Large Checkered Flags
❖ Small Crown Combs
❖ Candy with Crayons and Race Car Coloring Pages
❖ Ride in Pace Car during National Anthem
❖ Appearance on Front Stretch During Driver Introductions
Kids Club meets across from the 31st lap by the stage.
In order to participate, an adult must be present to supervise his/her child during the activity.