June 5th Sportsman Triple Crown - Race Format | Reduced Admission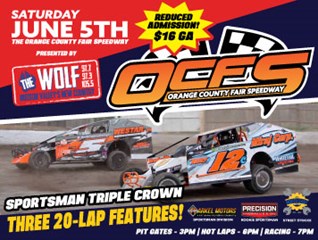 Following the Memorial Holiday Weekend, Orange County Fair Speedway returns to action on Saturday, June 5 with the Sportsman Triple Crown. The evening of racing action culminates with three 20-lap features races for the Arkel Motors Sportsman division. Also on the program will be the Precision Hydraulic & Oil Rookie Sportsman and the NAPA Northeast Parts Group Street Stocks. WOLF Country 97.7, 97.3, 105.5 FM as well as Arkel Motors are the evening's sponsors.
The event's format will see three (3) 20-lap features for the sportsman, each will pay FULL PURSE and be worth FULL POINTS towards the Arkel Motors Sportsman Championship. The first 20-lap feature will work like any typical Saturday night feature, drivers will run heats and be handicapped as usual. The second feature will see feature no.1's winner draw a random number of 10 through 16 to determine an invert on feature no.1's finish to line up that event. The third feature will have no.2's winner draw again numbers 10 through 16 to line up the last feature of the night.
An overall winner will be determined through points accumulated. The overall points winner will receive an extra $500, with second getting $300, and $100 for third. The overall points winner will also be granted a guaranteed starting spot in the Eastern States Weekend 2021 Sportsman Race. Hoosier tires will also be rewarded to second and third place points finishers.
Good news for fans regarding Saturday, June 5th, GENERAL ADMISSION HAS BEEN REDUCED TO $16 and $12 FOR SENIORS! Fans in both the grandstands and Drive-In can enjoy a price break on admission for a show jam packed with racing!