JOHN FERRIER AND TOM HINDLEY PUT END TO LONG WINLESS STREAKS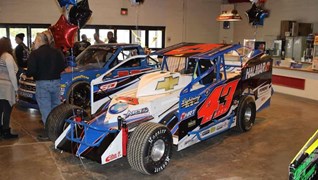 MIDDLETOWN, NY – Veteran Middletown drivers John Ferrier and Tom Hindley put an end to long winless streaks last Saturday night to highlight racing activity at the Orange County Fair Speedway.
Ferrier notched his first Modified victory in more than 13 years as he staved off the late challenges provided by Stewart Friesen en route to winning the 30-lap main event. It was Ferrier's third career triumph and his first trip to the winner's circle since May 17, 2013.
Hindley, who won for the first time in 12 seasons, and Rob Rowe, who collected his first OCFS career victory, shared the limelight in Small Block Modified competition as the track hosted a pair of 15-lap main events.
Hindley, who grabbed his sixth career Small Block win, chased down Rowe throughout the 15-lap nightcap before grabbing the lead and going on to win for the first time since Aug. 7, 2004.
Ferrier, after starting outside pole, took command of the Modified feature from the start and led the entire event. However, Friesen was entertaining the OCFS audience with a convincing drive from the rear of the field as he raced into the top 10 by the 11th lap.
Friesen, after finishing fourth in his qualifying heat, was disqualified during the post-race inspection for racing with an illegal tire. He was forced to start the main event in 22nd because of the infraction.
Friesen quickly moved his way through the field in the early stages of the race and sat in sixth place when Mike Kolka stopped on the track in the third turn to force a caution with 19 laps completed.
Friesen vaulted into fourth place following the ensuing restart, and was scored in second place just before an incident involving Jeremy Markle and Donnie Wilson between the first and second turns slowed action with 22 laps completed.
The caution provided Friesen with the opportunity he needed, but Ferrier was there to slam the door shut. Ferrier kept Friesen in second place on that restart and did it again four laps later to earn a popular win. Friesen, who took over first place in the standings, settled for second with Gary Edwards Jr., John Lieto and Tommy Meier rounding out the top five.
Rowe put himself in position to earn a sweep of the Small Block Modified competition when he picked the pole after capturing his first win. The top 10 finishers from the 15-lap opener drew for their positions from 10 cards and Rowe grabbed the ace.
Rowe seemed well on his way to pulling off the feat as he led for the first 13 laps with Hindley and Meier in hot pursuit. But Rowe's car was noticeably slowing and he lost the lead and several positions on the 14th circuit around the five-eighths mile, hard clay oval.
Hindley grabbed the lead and went on to take the win ahead of Meier, Mike Ricci, Kirk Horton and Shane Jablonka.
Rowe inherited first place from Joe Falanga following a pile-up in the fourth turn on a second-lap restart and then held off the challenges provided by Eddie Burgess to earn his initial OCFS win.
Both Rowe and Burgess were seeking their first wins in the division as the race was run caution-free the rest of the way. Rowe remained just ahead as he grabbed the checkered flag just 0.854 seconds ahead of Burgess. Ricci, Edwards and Hindley rounded out the top five.
Chris Stevens picked up his second win this season in the Sportsman 20-lap feature as he finished ahead of Joe Conklin, Tyler Boniface, Greg Sleight and Bobby DeLeon.
The race was marred by a pile-up down the homestretch after five laps as Corey Cormier flipped his Sportsman car and landed upside down. Several cars were involved in the incident, but no one was injured.
Cole Hentschel notched his second straight win and Danny Carlough won for the first time as the track hosted a pair of 12 lap features for the Rookie Crate Sportsman drivers.
Hentschel powered ahead of Connor Otten following a 10th-lap restart and then went on to finish ahead of Otten, Rich Ricci III, Brad Horton and Bobby Flood.
Carlough inherited first place on the 11th lap when leader Chris Raser spun and then went on to finish ahead of Cody Hunt, Stan Vishinski IV, Patrick Reiser and Tommy Zwart.
Jim Maher continued his recent dominance of Street Stock competition as he grabbed his fourth win of 2016 in the 15-lap race.
Maher, who was won three of the last four features, grabbed first place away from Emerson Cargain Sr. on the eighth lap as he went on to score his 13th career win. Mike Vigiletti finished second with Paul Maiolo, Jim Hajkowski and Wayne Taylor following.
Modified Feature Finish, 30 Laps: 1. John Ferrier, 2. Stewart Friesen, 3. Gary Edwards Jr., 4. John Lieto, 5. Tommy Meier, 6. Billy VanInwegen, 7. Brendan Finley, 8. Craig Mitchell, 9. Jerry Higbie, 10. Richie Eurich, 11. Matt Janiak, 12. Chris Shultz, 13. Michael Storms, 14. Jeremy Markle, 15. L.J. Lombardo, 16. Chris Whitehead, 17. Donnie Wilson, 18. Mike Kolka, 19. Danny Cronk, 20. Mike Horton, 21. Jimmy Horton, 22. Bob McGannon.
First Small Block Modified Feature Finish, 15 Laps: 1. Rob Rowe, 2. Eddie Burgess, 3. Mike Ricci, 4. Gary Edwards Jr., 5. Tom Hindley, 6. Tommy Meier, 7. Zack Vavricka, 8. Kirk Horton, 9. Jimmy Spellmon, 10. Frank Doty, 11. Matt Janiak, 12. John Ferrier, 13. Jesse Leiby, 14. John Lieto, 15. Joe Falanga, 16. Shane Jablonka, 17. Rich Eggers, 18. Willy Auchmoody, 19. Bobby Hentschel, 20. Bob McGannon, 21. Joe Barbagallo Jr., 22. Donnie Elliott, 23. Rich Coons.
Second Small Block Modified Feature Finish, 15 Laps: 1. Tom Hindley, 2. Tommy Meier, 3. Mike Ricci, 4. Kirk Horton, 5. Shane Jablonka, 6. Jimmy Spellmon, 7. Gary Edwards Jr., 8. John Lieto, 9. Frank Doty, 10. Zack Vavricka, 11. Bob McGannon, 12. John Ferrier, 13. Joe Falanga, 14. Rob Rowe, 15. Jesse Leiby, 16. Eddie Burgess, 17. Rich Eggers. Did Not Start: Matt Janiak, Willy Auchmoody, Bobby Hentschel, Joe Barbagallo Jr., Donnie Elliott, Rich Coons.
Sportsman Feature Finish, 20 Laps: 1. Chris Stevens, 2. Joe Conklin, 3. Tyler Boniface, 4. Greg Sleight, 5. Bobby DeLeon, 6. Jeff Hulseapple, 7. Jeff Richardson, 8. Patrick Murphy, 9. Rafaele Carson, 10. Allison Ricci, 11. Leo Fotopoulos, 12. Jimmy Johnson, 13. Anthony Falanga, 14. Troy Arnold, 15. Howie Finch, 16. Tommy Vigh Jr., 17. Jesse Leiby, 18. Chris Lynch, 19. Frank Venezia, 20. Joe Bonetti, 21. Randy Sweetman, 22. Corey Cormier, 23. Aaron Doolittle, 24. Billy Eggers Jr. Disqualified: Milton Mann. Did Not Qualify: Mel Schrufer, Pete Goydich, Eddie Burgess, Dan Morgiewicz, Joe Falanga, Doc Young, Phil Johnson, Matt Burke, Bob Wosyluk, Ron Cockley, Rich Coons, Steve Eubanks.
First Crate Rookie Sportsman Feature Finish, 12 Laps: 1. Danny Carlough, 2. Cody Hunt, 3. Stan Vishinski IV, 4. Patrick Reiser, 5. Tommy Zwart, 6. Jake Granacker, 7. George Begg, 8. Chris Raser, 9. Paul Hyde, 10. Erin Paulison, 11. John Gilroy, 12. Don Smith, 13. Matt Shultz, 14. Roger Henion Jr., 15. Mike Orlando. Did Not Start: Rich Eggers, Bob Hallabeck.
Second Crate Rookie Sportsman Feature Finish, 12 Laps: 1. Cole Hentschel, 2. Connor Otten, 3, Rich Ricci III, 4. Brad Horton, 5. Bobby Flood, 6. John Farissier, 7. Ashley Rogosich, 8. Tanner Johnson, 9. Kyle Jashembowski, 10. Michael Giulano, 11. Bryan Jones, 12. Russell Crotty, 13. Taylor Hurban, 14. Mark Connoly, 15. Jared Miller. Did Not Start: Chris Cook.
Street Stock Feature Finish, 15 Laps: 1. Jim Maher, 2. Mike Vigiletti, 3, Paul Maiolo, 4. Jim Hajkowski, 5. Wayne Taylor, 6. Emerson Cargain Sr., 7. Charlie Donald, 8. Terry McNamara, 9. John Hechinger, 10. Scott Gumaer, 11. Pete Wiegand, 12. Emerson Cargain Jr., 13. Tommy Pickles, 14. Joe Paino, 15. Ryan Modiano, 16. Michael O'Sullivan, 17. Mario Contarino.