HV Renegades Sending Rascal and FREE Tickets to Little League Night at OCFS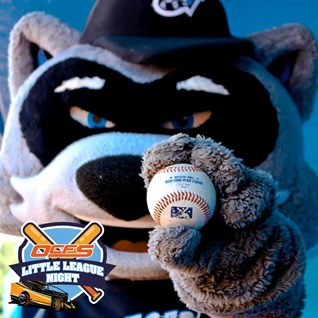 Saturday, May 18th's Little League Night offers FREE ADMISSION for all youth sports participants both boys and girls wearing their teams' jersey and high school athletes in uniform will be admitted to the Saturday, May 18 racing program at Orange County Fair Speedway free of charge.
The format for the evening's racing excitement includes the Big-Block Modifieds, Sportsman, and Street Stocks, with each division competing in a qualify events and feature races. In the headline Modifieds feature race, the drivers will vying for a lucrative $3,300 first place prize money.
As part of Youth Sports night activities, Major League Baseball player Dwight Gooden will be in attendance from 7-9pm to sign autographs and hang out with fans.  Also featured is a fun interactive "wide world of sports" game.
To celebrate the theme, The Hudson Valley Renegades are sending their mascot, Rascal, to come hang out with fans and hand out FREE tickets to Renegades Baseball games.