Hearn Wins 12th Career Eastern States 200!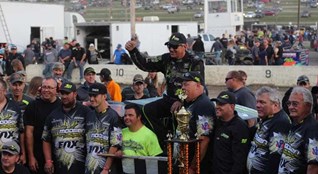 By FRANK CATIZONE
MIDDLETOWN – Don't blame Brett Hearn for thinking back to the closing laps of last year's Eastern States 200 at the Orange County Fair Speedway.
After all, Hearn, after dominating the race for so many laps, seemed headed for another victory during this historic fall racing classic until Stewart Friesen entered the picture. Friesen snatched the win away from Hearn between the third and fourth turns on the final circuit to claim his first Eastern States triumph.
Hearn, the winningest driver in OCFS history, was once again leading Sunday afternoon as the 56th edition of Eastern States was approaching the finish. And, once again, Friesen would become a factor before track starter Jerry Enright waved the checkered flags.
However, this time around the result was different. Hearn, gambling on a right rear tire that was changed during his mandatory pit stop of the 44th lap, rolled the dice and produced the results he needed as he outraced Friesen to capture his record-setting 12th Eastern States 200 championship.
Hearn, who hasn't won this race since 2014, added another milestone to his OCFS career with his 175th Modified victory and now has reached victory lane an astonishing 304 times at the track.
"It was like deja-vu,'' said Hearn. "But I felt much better this time around because the car felt good throughout the race. I knew I still had a lot of tread on that right rear and was able to step it up at the end when I had to.''
But Friesen, who was looking to earn a of sweep of the Modified portion of this Eastern States Weekend Festival, was looking to earn over $65,000 in prize money and the bonus offered by Halmar owner Chris Larsen.
Friesen put himself in position for another big pay day as he moved into second place on the 195th lap. And, just like last year, it took several tries to finish the event, which was cautioned four times for an accident and three flat tires.
But Hearn, who knew he was losing tire pressure in his right rear last year, stood his ground and put some distance between himself and Friesen the final two laps to score another exciting victory before a packed OCFS audience. It also marked the third straight year Larsen didn't have to write out an additional $10,000 check as no driver swept the weekend.
"It's nice to take one away from Stewart,'' said Hearn. "He's certainly taken enough wins away from me lately. We've really been struggling this fall and maybe this will help us end the season in a flurry.
"This is my 2011 Syracuse car and I was really confident that it could get the job done. We stuck to our strategy and were able to come out of here with a big win. I know there were a lot of flat tire during the weekend, but I wasn't really that worried. The only thing I wasn't too thrilled about was all the cautions late in the race. It certainly brought back memories to last year.''
Hearn, who started eighth in the 43-car field, inherited first place on the 120th lap when Friesen finally made his mandatory pit stop to change tires and would never surrender the lead the rest of the way.
But his road to victory didn't come without a struggle as fellow Lebanon Valley Speedway rival Ken Tremont Jr. gave Hearn all he could handle for many laps around the five-eighths mile, hard clay oval.
Tremont was able to close in on Hearn several times between the first and second turns. But he could never find a passing lane was Hearn was too powerful down the straightaways and maintained his advantage.
Tremont's bid for a victory ended on the 195th lap when his car came up with a flat right rear tire and he was forced to the pits. Friesen would get past Mike Mahaney on the ensuing restart to grab second place, but never really mounted a serious challenge to overtake Hearn.
"We went with our game plan, but just fell a little bit short,'' said Friesen. "All the guys did an excellent job preparing this car and we were good all day long. But Brett was just a little bit faster than us this time around.''
Friesen, who won both the Short Track Super Series 50-lapper on Thursday night and the Eastern States Small Block Modified 100-lap championship on Saturday, was dominant during the first half of the race after grabbing the lead away from Billy Decker at the starter's stand to complete 40 laps.
Friesen would stay in the lead until making his mandatory stop on the 120th circuit. It would be the last time he enjoyed first place as Hearn took over and never looked back after that.
Hearn, who picked up $35,000 for the win, said he wasn't going to let this one get away during his post-race interview in victory lane.
"I was determined that it wasn't going to happen again,'' said Hearn. "It was like reliving last year's nightmare once again. But there's no way this one was going to get away.''
Mahaney followed Hearn and Friesen across the finish line with Jimmy Phelps, Matt Sheppard, Tim Fuller, Ryan Godown, Jerry Higbie, Matt Janiak and Clinton Mills rounding out the top 10. Godown, who advanced 35 positions, earned the Hard Charger Award.
Jimmy Maher collected his first Eastern States championship as he captured the Street Stock feature event, which was checkered after 23 of the scheduled 25 laps.
Maher inherited first place on the 11th lap when leader Kevin Skelly and Joel Murns Jr. were involved in a backstretch accident while battling for first place. The incident caused a pile-up involving several cars.
Maher took command when racing resumed and then went on to notch his fourth win of the season ahead of Ray Tarantino, Mike Vigiletti, Billy Deak Jr. and Charlie Donald.
Eastern States 200 Feature Finish: 1. Brett Hearn, 2. Stewart Friesen, 3. Mike Mahaney, 4. Jimmy Phelps, 5. Matt Sheppard, 6. Tim Fuller, 7. Ryan Godown, 8. Jerry Higbie, 9. Matt Janiak, 10. Clinton Mills, 11. Anthony Perrego, 12. Rick Laubach, 13. Ken Tremont Jr., 14. Steve Dodd, 15. Tommy Meier, 16. L.J. Lombardo, 17. Eddie Marshall, 18. Jeff Heotzler Sr., 19. Billy Decker, 20. Matt Hitchcock, 21. Danny Creeden, 22. Billy VanInwegen, 23. John Ferrier, 24. Scott Flammer, 25. Richard Smith, 26. Andy Bachetti, 27. Tyler Dippel, 28. Michael Sabia, 29. Richie Eurich, 30. Billy Pauch Jr., 31. Brian Krummel, 32. Chris Shultz, 33. Ric Hill, 34. Frank Cozze, 35. Danny Johnson, 36. Jimmy Spellmon, 37. Mike Ruggiero, 38. Billy Dunn, 39. Gary Edwards Jr., 40. Craig Mitchell, 41. Jimmy Horton, 42. Michael Maresca, 43. Mike Kolka. Did Not Start: J.R. Heffner.
Street Stock Feature Finish, 23 Laps: 1. Jim Maher, 2. Ray Tarantino, 3. Mike Vigiletti, 4. Billy Deak Jr., 5. Charlie Donald, 6. Walt Henry, 7. Bob Sleight Jr., 8. Ryan Brockner, 9. Joel Murns Jr., 10. Steve Larsen, 11. Emerson Cargain Sr., 12. John Hechinger, 13. Wayne Taylor, 14. Jim Hajkowski, 15. John Aumick, 16. Scott Gumaer, 17. David Cook, 18. Dan Maher, 19. Chris Murphy, 20. Kevin Skelly, 21. Zack Sorrentino, 22. Joe Scheffold, 23. Tommy Pickles, 24. Shawn Johannessen, 25. Ryan Modiano, 26. Jay Smalley, 27. Kyle Welsch. Did Not Start: Mike Aragoni, Jesse Murphy.