Gary Edwards Jr. Ends Two-Year Winless Drought & Jordan Thomas Grabs His First Victory At OCFS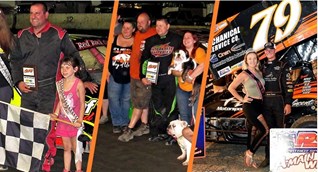 By FRANK CATIZONE
MIDDLETOWN, NY – Gary Edwards Jr. ended a two-year winless drought as he held off several challenges provided by Anthony Perrego in the latter stages to capture last Saturday night's Small Block Modified 25-lap feature at the Orange County Fair Speedway.
Edwards, after starting fourth in the 23-car field, chased Tyler Boniface during the first 15 laps before Tom Hindley spun between the third and fourth turns to force the event's first caution flag. Both Edwards and Perrego passed Boniface on the ensuing restart to set up their fierce battle to the finish.
"I don't know if it was the rain we had Friday night or just the preparation, but this racing surface was just superb tonight,'' said Edwards. "It didn't matter where I raced tonight because I was able to get good bite on both the inside and outside lanes. I hope it rains every Friday.''
Edwards utilized the inside lane to move ahead of Boniface on the 16th-lap restart and then capitalized on his racing experience to thwart off every passing attempt Perrego had to offer. The Wurtsboro driver said he knew Perrego was close behind, but didn't falter as he drove his line to perfection to keep the young driver at bay.
"I found a very fast lane about three-quarters of the way up the track and just stuck my car at that point,'' said Edwards. "I know Anthony has a fast car, but I was also good on the bottom and felt he was going to have to go around me to win.''
Perrego was also unable to get the jump on Edwards following a pair of restarts as he had to settle for a second-place finish. However, Perrego was able to increase his lead over Jerry Higbie in the standings with just one race remaining during the regular season on Sept. 2.
Perrego paces the standings in search of his first Small Block track title with 481 points and Higbie is 31 markers off the pace with 450. Edwards, who claimed his sixth career OCFS win and first since Aug. 22, 2015, moved into third with 447 points.
Boniface, who stands fourth in points with 440, came across the finish line in third place with Higbie, Scott Flammer, Rob Rowe, Allison Ricci, Chris Stevens, Donnie Elliott and Craig Mitchell rounding out the top 10.
The division's final race of the season will also determine the Rookie of the Year as Boniface, Stevens and Ricci are only separated by 17 points in the standings.
Jordan Thomas grabbed the first victory of his OCFS career as he demolished a field of 20 Sprint Car drivers to capture the URC/Patriots 360 Challenge 25-lap A Main.
Thomas was never challenged throughout the race as he grabbed first place at the drop of the green before eventually taking the checkered flag nearly five seconds ahead of multiple United Racing Club champion Curt Michael.
Michael, who owns two career victories here, overtook Flammer for second place on the 18th lap, but was never a serious contender for the win as Thomas already owned a half a lap cushion. Justin Whittall made a late charge to place third with Flammer and Bill Unglert following.
Howie Finch registered his first win of 2017 in the Sportsman division as he took the 20-lap feature ahead of Anthony Falanga, Gary LaBagh, Danny Carlough and Connor Otten.
Finch started on the outside pole and finished nearly six seconds ahead of Falanga in the event, which ran caution-free.
Jesse Leiby, who finished seventh, increased his lead in the standings with 1060 points going into the final two races of the season. He's followed by Greg Sleight (1039), Joey Bruning (1031). Jimmy Johnson (1027) and Joe Conklin (958).
Mike Vigiletti moved a step closer to defending his Street Stock title as he picked up his fourth win this season in the 15-lap feature ahead of Emerson Cargain Sr., Tommy Pickles, Charlie Donald and Jim Hajkowski.
Vigiletti, who picked up his 26th career triumph, overtook Donald on a fourth-lap restart as he picked up the maximum amount of points (105) for the evening to push his total to 1078 for the season.
Pickles stands second in the standings with 1034 points with just two races remaining. He's followed by Cargain (1026), Hajkowski (1025) and Donald (988).
Small Block Modified Feature Finish, 25 Laps: 1. Gary Edwards Jr., 2. Anthony Perrego, 3. Tyler Boniface, 4. Jerry Higbie, 5. Scott Flammer, 6. Rob Rowe, 7. Allison Ricci, 8. Chris Stevens, 9. Donnie Elliott, 10. Craig Mitchell, 11. Joey Falanga, 12. Patrick Reiser, 13. Jesse Leiby, 14. Zack Vavricka, 15. Mike Horton, 16. Bob McGannon, 17. Tom Hindley, 18. Frank Venezia, 19. Chris Shultz, 20. John Lieto, 21. Keith Still, 22. Don Smith Jr., 23. John Farissier.
URC/Patriots 360 Sprint Car Challenge Feature Finish, 25 Laps: 1. Jordan Thomas, 2. Curt Michael, 3. Justin Whittall, 4. Scott Flammer, 5. Bill Unglert, 6. Robbie Stillwagon, 7. Kyle Drum, 8. Troy Betts, 9. Billy VanInwegen, 10. Steve Collins, 11. Joe Kata, 12. Jason Clauss, 13. Chris Allen Jr., 14. Scott Goodrich, 15. Thomas Radivoy, 16. Mark Sasso, 17. Josh Azzi, 18. Jared Zimbardi, 19. Jimmy Stitzel, 20. Chris Coyle. Did Not Start: Derek Jonathan.
Sportsman Feature Finish, 20 Laps: 1. Howie Finch, 2. Anthony Falanga, 3. Jared LaBagh, 4. Danny Carlough, 5. Connor Otten, 6. Joe Conklin, 7. Jesse Leiby, 8. Joey Bruning, 9. Troy Arnold, 10. Joe Bonetti, 11. Jimmy Johnson, 12. Mel Schrufer, 13. Jeff Hulseapple, 14. Greg Sleight, 15. Austin Smith, 16. Roger Henion Jr., 17. Brad Horton, 18. Tommy Vigh Jr., 19. Leo Fotopoulos, 20. Bobby Flood, 21. Dan Morgiewicz, 22. Patrick Murphy, 23. George Begg, 24. Matt Shultz. Did Not Qualify: Jimmy Leiby, Matt Burke, Keith Johannessen, Jake Granacker, Tyler Pirone, Jamie Doolan, Chet Doolan, Winter Mead, Brett Weslowski, Dylan Smith, Mike Bull, Jeff Higham, Brian Coulter, David Demorest, Anthony Horton, Jeff Jones, Chris Grispin, Lenny Helmich. Disqualified: R.J. Smith.
Street Stock Feature Finish, 15 Laps: 1. Mike Vigiletti, 2. Emerson Cargain Sr., 3. Tommy Pickles, 4. Charlie Donald, 5. Jim Hajkowski, 6. Joel Murns Jr., 7. Ryan Modiano, 8. Pete Wiegand, 9. Paul Maiolo, 10. Kyle Riley, 11. Shawn Johannessen, 12. Joe Scheffold. Did Not Start: Bruce Leote, Scott Gumaer.