Full Fender Nostalgia Night and The Marky Traverse Street Stock Memorial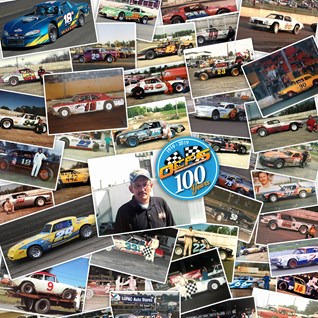 Marky Traverse was a young fan who was lost too soon. For years, Orange County Fair Speedway, its fans, and the Traverse family have paid tribute to Marky with a special Street Stock race. For 2019, the memorial becomes a second "Nostalgia Night," honoring Orange County's history of "full-body" or "full-fender" race cars like the current Street Stock division. Adding to the program vintage pro stock, street stock, and pure stock cars will be on display, with drivers signing autographs and celebrating the 1950s and '60s "Drive-In" era with classic cars.
A full field of Street Stocks is expected to be on hand for this annual race. Bobby Sleight (564 points) is the current Street Stock division point leader. Eager to narrow the point gap are Joe Sheffold (538), Jim Hajkowski (512), reigning champion Jim Maher (502), and four-time full-fender titlist Emerson Cargain Sr. (498).
In addition to the Street Stocks, the mighty Big-Block Modifieds and Sportsman cars will also be in competition in a full program of qualifying and feature races.
With only a few more outings in the point season, the chase for the Modified Championship is as intense as ever. Currently, Fifteen-time Orange County titlist Brett Hearn (728 points) leads three-time champion Tommy Meier (706) and perennial challenger Craig Mitchell (700), with each star driver eyeing the big championship trophy and the $40,000 check that accompanies it, emblematic of being the top gun at Orange County Fair Speedway on this historic 100th year of operation.
Admission prices for the August 4 race meet remain at $20 adults and $5.00 for children 10 and under. There is a $1.00 car charge for the Drive-In section. Parking on the Fairgrounds is free. The pits open at 2:30 pm, spectator gates and Drive-In at 4:00 pm, and the full night of racing begins promptly at 6:00 pm. Race fans will receive a free program as they enter the grounds.
Advance ticket sales for all remaining 2019 races, including the upcoming August 15-17 Centennial Race Weekend and the September 14 Eve of Destruction and track information are available at the Orange County website, www.orangecountyfairspeedway.net, or from the Track Office. Call 845-342-2573 during business hours.
UPCOMING EVENTS
August 10 --- Fire and EMS Appreciation Night; Modifieds, Small-Block Modifieds, Sportsman, and Street Stocks