First, First Friday Car Show - May 7th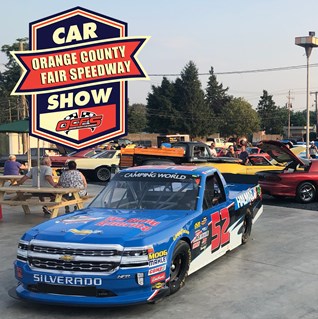 MONTHLY CAR SHOWS RETURN TO THE ORANGE COUNTY FAIR SPEEDWAY!
5PM - 9PM | ALL CARS WELCOME (BIKE, TRUCKS, ETC)
$15 PER CAR REGISTRATION
Chance to win $250 door prize w/ entry.
Featuring: Trophy Ceremony, Full Concessions, Music, OCFS Ticket Giveaways.
SPECTATORS WELCOME! FUN FAMILY ATMOSPHERE!
What better place to hold a classic (or otherwise) car show than at Middletown NY's historic Orange County Fair Speedway?
The Orange County Fairgrounds has been holding weekly racing events for over 70 years, but first began racing cars on their clay horse racing oval in 1919, and since then has become a long-running, local legend in motorsports, hosting some of the world's most prolific drivers at times. In the last few years, under the direction of Orange Motorsports and Entertainment, the facility has grown to include concerts, rodeos and other live events, but also major upgrades to its 5/8 mile clay oval and Motocross tracks.
Now with car shows returning to the Speedway on a monthly basis, motorheads will have a whole new way to enjoy those hallowed grounds. With an "All Cars Welcome" policy, you can expect to see all kinds of rides at OCFS Car Shows. Racers, Imports, Tuners, Motorcycles, Trucks, Jeeps, The Classics, all are welcome to participate. Entry is $15 per car, and each entry includes a ticket towards a $250 door prize, anyone can win! Plaques/trophies will also be awarded to best in show cars.
The first of these monthly events kicks off on Friday, May 7th and will continue on the first Friday of each month (Excluding July, which lands on the second Friday due to a scheduling conflict at the speedway). The event will run from 5-9PM, cars may enter the speedway using "Gate 2" on the Wisner Ave. side of the fairgrounds (239 Wisner Ave. Middletown NY 10940) On-site concessions will be available from Maxwell's, the longtime concessionaire of Orange County Fair Speedway. The event will also feature live music. There is a $5 parking fee per carload for spectators or anyone not entering a car. Spectators are also welcome to purchase $15 door prize tickets.