Family Fun and Excitement in 2020 Starts at the OCFS Motorsports Show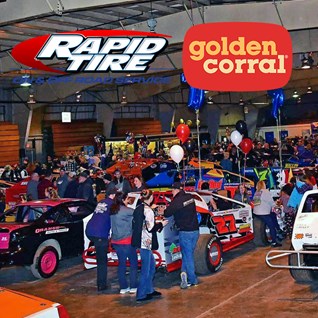 Although on-track racing action is still a few weeks away, Orange County Fair Speedway kicks off the 2020 season Saturday and Sunday, March 21-22 with the annual Motorsports Show presented by Rapid Tire of Montgomery, New York at the Orange County Fairgrounds Event Center. The two-day OCFS Motorsports Show is both a celebration of the 2019 season and a preview of what's ahead on the historic Middletown five-eighths-mile clay-surfaced speedway.
Featuring race cars of all types competing for a $1,000 best in show prize, the Little Miss OCFS Pageant and the $500 Ms OCFS Pageant sponsored by Golden Corral, tire change contest, Pit Crew Challenges sponsored by HIG Fab a Cornhole Tournament, a charity auction, awards ceremonies, live music and refreshments---this is a show for fans to see the cars, meet drivers, and take part in the activities before racing begins on Saturday, April 4.
To close out the 2019 OCFS season, at 8:00 pm Saturday evening, top point drivers in all four racing divisions will be honored and presented with their trophies, cash, and merchandise awards.  Other Saturday highlights include the crowning of Little Miss OCFS at 1:00 pm, the Pit Crew Challenge (2:30 pm), charity auction (4:00 pm), Cornhole Tournament (5:30 pm), and live music from Black Dirt Bandits at 7:00 pm. 
Sunday's activities include the 12:30 pm Street Stock Shoot-Out Series awards, the Ms OCFS Pageant (1:00 pm), and the Best of Show Awards (3:00 pm).
The OCFS Motorsports Show is open Saturday, March 21 from 10:00 am to 10:00 pm, and Sunday, March 22 from 10:00 am until after the 3:00 pm awards ceremony. Admission is $12 each day, or $20 weekend; children 12 and under are free.  Parking on the fairgrounds is also free.
Competitors who wish to display their cars should contact the speedway office for information and an application. Applications for the Ms OCFS and Little Miss OCFS Pageants are also available from the speedway office. Rules for the pageants can be found on the OCFS website. 
For all the latest Orange County Fair Speedway news and information for both fans and competitors, visit the OCFS Website at www.orangecountyfairspeedway.net.
UPCOMING:
March 21-22    OCFS Motorsports Show
March 27         "Shake it down Weekend" Open Practice (Free admission for fans!)
April 4              Orange County Oval Kickoff 50 for Modifieds (Sportsman, Rookie Sportsman and Street                         Stocks also in action)