ESW 2020 - WHO YOU GOT?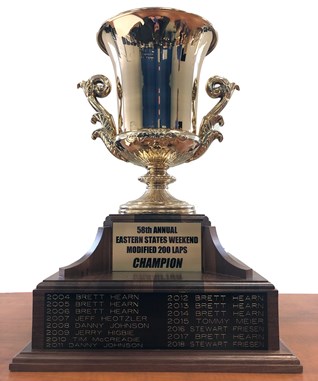 2020 has been, to state it plainly, an off year for dirt racing in the northeast.  The COVID-19 pandemic has managed to shorten the seasons of almost all NY state dirt tracks.  Despite the loss of a full season, fans have been treated to some epic, big wins in the sport as of late. The Super DIRTcar Series "Oktoberfast" which was streamed live to fans, crowned 4 different big winners in Jimmy Phelps, Anthony Perrego, Matt Sheppard and Max McLaughlin. Each one them has pre-registered for the 2020 Eastern States Weekend 200.
To get an idea of just how stacked the field at ESW 2020 is, not only are the 4 big Oktoberfast winners signed up, fans will also be treated to the likes of powerhouse drivers like Mat Williamson, who just scored a huge win in the Short Track Super Series Speed Showcase 200. "Money" Mat Williamson was also OCFS's Centennial Race Weekend winner in 2019, taking home an astounding $100,000 pay check and earning his moniker.  To further assert his dominance, Williamson would return to OCFS a few months later for ESW 2019 to win the Small Block 100-lapper.  Can the Ontario native driver take home another big pay check on a long distance race? Not if fellow Canadian and NASCAR Truck Series driver Stewart Friesen has anything to say about it.
Friesen has taken home the Eastern States Weekend 200 Championship 3 times in the last 4 years (Brett Hearn, the winningest ESW driver and OCFS driver in history owns the other win). No matter where he goes, Friesen is a force to be reckoned with but OCFS is a place he tends to dominate the field. For an example of "Mr. Freeze's" power, watch the Centennial Race Broadcast on the OCFS YouTube Channel. Though he couldn't beat out Williamson in that instance, his ferocity is on full display as he tries to run him down, at multiple points kissing the wall and seemingly not losing an ounce of control. One advantage other drivers may yield against Friesen is experience.  The ESW roster shows many other past winners, and all remain a force to be reckoned with.
Tommy Meier (2015), Jerry Higbie (2009), Jeff Heotzler (2007), Jimmy Horton (1991, 1995) and Rich Eurich (1988), all former 200 winners have signed on for this year's big one. They've been regular competitors at OCFS for decades and all with fairly recent feature wins, so you can't rule any of them out as potential 2020 Eastern States winners.  With a roster now listing 50 or more Modifieds entered in the 200, these former champs will have to work for a spot in 200. There will be plenty of experienced drivers from other tracks as well like Andy Bachetti or Kenny Tremont.
Of course, 2020's 200 could very well go to one of the young guns. Perrego's chances are looking very good, and though he hasn't been nearly as strong, McLaughlin was 2019's fast timer at ESW in addition to his recent win. Michael Mahaney, another strong young competitor, had been just on the edge of victory throughout OCFS's shortened season as well as at the Super DIRTcar series events. His Oktoberfast performances were impressive, proving what a hard charger he can be. 
Like every year before it, 2020's Eastern States will feature a packed house of drivers, all looking to add their names to that ESW trophy, it's really anyone's race, but everyone has their predictions...WHO YOU GOT?
STREAM THE ENTIRE EASTERN STATES WEEKEND RIGHT HERE ON THE OCFS WEBSITE